Reacho_Header
Say Sriram Raghavan and one can't help but expect a dark, thriller of a movie. Don't blame us for stereotyping for it is Raghavan himself who has proven us time and again that he is, indeed, a Hitchcock admirer. Twist-packed thrillers, suspense-laden plot, characters who are regular jacks, taut dialogues, sardonic humor, unexpected flashes of violence and the 'Oh teri' from the audience – are what makes a complete Sriram Raghavan film.
A close look into his movies and you will notice his streak of repeating his actors, his associates and even the locations. From Ashwini Kalsekar, Zakir Hussain etc. showing up in his movies as supporting cast to Pooja Ladha Surti as editor and, of course, the old Pune locations, we've seen them all and frequently. 'Comfort', he said vaguely in an interview when quizzed.
His love affair with Pune isn't that of an exhibitionist but as subtle as a gossip. We take out a piece of Pune, from the cake of Ragahvan's movies, to study the man of the hour. To be au fait with his love for the city and how he went about casting it in his movies, we've delved into four of his following movies.
Let's take a look:
1) Andhadhun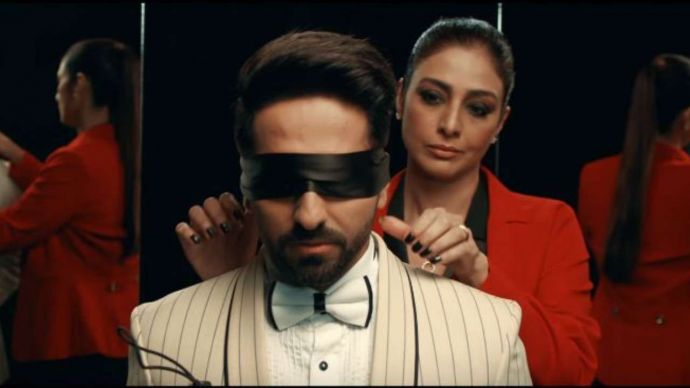 Source: dna
The blockbuster of 2018, Andhadhun has been shot vastly in Pune. The first few scenes of the movie gives you a quick darshan of 'Café Goodluck', for many people conveniently choose going to this café first thing in the morning than any mandir. Akash, the protagonist, is shown to live in the beautiful bylanes of Prabhat Road, who commutes to Magarpatta City for the movie's plot to unfold. Hey, do not forget to spot 'Chitale Bandhu' in one of the scenes! Because what if Pune without our staple, even though the scene is amidst a stressful circumstances in the movie.
2) Badlapur
Source: urbanasian
Unlike Andhadhun, Badlapur tryst with Pune is short lived. The movie opens with the hustle-bustle of M.G. Road where Yami Gautam's character and her son are kidnapped. Varun's and Yami's characters are shown to be living their happily-ever-after before the twist of the tale. This back-story cushions the revenge plot of the film, which is what Badlapur is essentially about.
3) Ek Haseena Thi
Source: justwatch
Raghavan's directorial debut had left everyone sit up and take note of him. 'Ek Hasina Thi' which starred Saif Ali Khan and Urmila Matondkar was a spine-chilling, revenge flick. In his debut, he used Pune not as a location but as a mechanism to build up Urmila's character of 'Sarika Vartak'. Her innocence before she lands up in jail is made-believed by the fact that she was the girl next door from a comparatively simple town who landed up with big dreams in Mumbai. What follows next is the movie's plot.
4) Johnny Gaddaar
Source: imdb
Trust Sriram Raghavan to make the most of aapla Pune! Not shot in, not used in the background story and not even used to shape up a character, Raghavan has roped in 'Pune' as a mere location of trickery by the lead actor (Neil Nitin Mukesh). In the movie, a parallel plot is being planned by Neil, which has Pune play a crux role, while he went ahead with his own scheme of things.
We cannot decide if its Pune charm or Raghavan's craft and proficiency that he could cast 'Pune' in multiple roles and how! Well, we're happy as long as it is not what the 'K' alphabet is to Ekta Kapoor.
Title image source: indianexpress
---
Like our facebook page to stay updated. You can also download Reacho app on Android or iOS to get interesting stories at your fingertips.