Reacho_Header
A 19th-century wallet from Gujarat, an 18th-century gun-powder box from Rajasthan, a 19th-century ink pot from China, coins from Shivaji's reign, a 19th-century nut cutter from south-India, a 16th-century sun lamp from Nepal.
You must be wondering why I am listing random everyday objects from around the country. Well, I am not crazy.
If you are a Punekar, you will instantly recognise these objects. But, if you haven't guessed it yet, I am talking about Pune's iconic Raja Dinkar Kelkar Museum.
This unique museum that is one of Pune's True delights, houses over 20,000 odd objects from the everyday Indian life, painstakingly collected by Dr Dinkar Kelkar. The quirky collection includes hundreds of hookah pipes, writing instruments, lamps, textiles, toys, entire doors and windows, kitchen utensils, furniture, puppets, ivory playing cards and betel-nut cutters.
Dr Kelkar dedicated his entire collection to the memory of his only son Raja, who died an untimely death at the age of 7.
The Museum was initially named "Raja Sangraha" later "Raja Kelkar Historical Collections" finally got named "Raja Dinkar Kelkar Museum". During this time the words "museum" and "antique" were hardly known to common Indians excepting some elite class. Dr. Kelkar is thus regarded as one of the pioneers of Indian museums.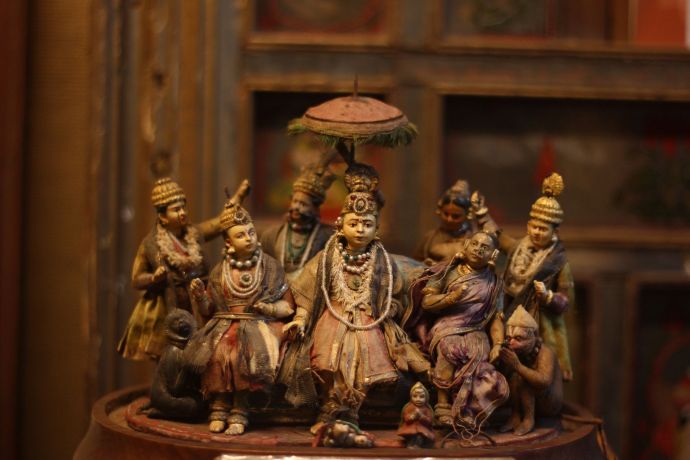 Situated on Bajirao Road, this museum is paradise for all history lovers. It houses rare exhibits and artefacts that date back to the 17th century, collected from all over the country
. Articles belonging to Mughal and Maratha periods that date back to 17th century are displayed at Raja Dinkar Kelkar Museum. Musical instruments, metalwork, exquisite chitrakathi paintings and a unique lock collection are the other attractions of the museum.
Dinkar Kelkar spent almost 60 years travelling and purchasing objects from the remote areas and towns of India. Divided into 36 sections, the collection mostly revolves around to everyday life like pots, lamps, containers, nutcrackers, pen stands.
'Mastani Mahal' is regarded to be the masterpiece of this museum, which was erected here in its original form. The recreation of this architectural marvel is simply mesmerising.
Walking through the museum galleries, one is transported back in time. Through its quirky everyday objects, the museum seems to recount countless stories of the country's diverse cultural heritage.
For those who want to experience the rich and tasteful lifestyle of maharajas in the 18th century, there is a tambool collection including nut-cutters of different shapes and sizes, betel boxes, lime containers and spittoons. The intrinsic designs are proof of the artistic brilliance of people belonging to that century.
For the music lovers, there is a musical gallery with nearly all types of musical instruments on display. The collection also includes personal instruments contributed by the personalities such as Sarinda by P.L. Deshpande, Saarangi of Ustad Kadarbaksh Khan. One can also see a tortoise-shaped veena and a gramophone of early 20th century, donated by HMV Co.
What makes this museum unique is its rare collection of everyday objects. While most of us tend to overlook everyday objects, Dr Kelkar's huge collection of everyday objects, gives us a new insight into our routine life.
With objects that celebrate a day to day life, the Raja Dinkar Kelkar Museum actually gives us a new perspective to look at our mundane life.
All images have been sourced from rajakelkarmuseum
Cover image source: wikipedia
---
Like our facebook page to stay updated. You can also download Reacho app on Android or iOS to get interesting stories at your fingertips.