Reacho_Header
Being a millennial we have surely achieved a lot many things; ask us any trendy, techie questions and we are there at the drop of the hat. But with time and technology, we have surely missed a large and a beautiful part of this life.
To take you back on the nostalgic ride of a bicycle and give you some fitness goals and inspiration beyond the confined walls of a gymnasium, Reacho Pune got in a conversation with Radhika Kapote.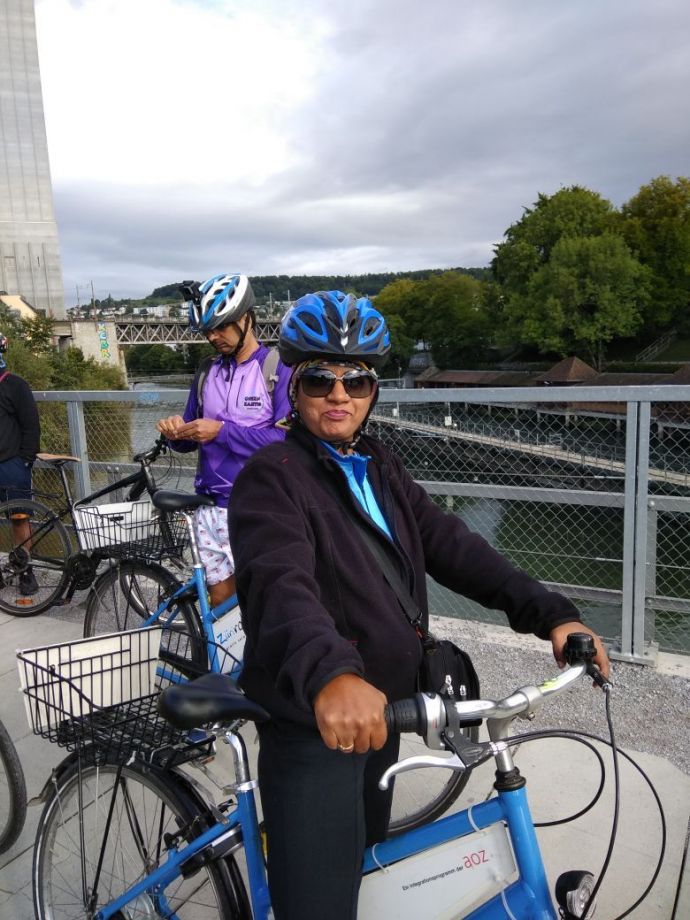 Radhika and her husband Shashank are bicycle riders and have ridden their way to Goa, Leh, and Europe before. Their main objective of cycling was- fitness but now gradually they have taken their passion to another new level.
How and when did this cycle expedition of yours started?
Back in the year of 2014, our only aim of riding a bicycle was- fitness. So my husband borrowed a cycle for a couple of days and tried his hand at it. The joy he got after the ride was so exuberant that my husband thought of bringing two cycles one for me and one for himself. So, it all started with a small cycle ride!
Which was the 1st longest drive with your husband?
On December 2014, we took our first ride from Pune to Goa, though we had to halt at places, the overall journey was fun. We first halted at Satara then Kolhapur then, Sawantwadi and then we reached our destination, Goa.
Being a housewife and children of two, I had to call my mother to babysit my daughters. Well, this was how our first long expedition happened.
Tell us about the thrilling rides you or your husband have ventured into?
My husband had been to Ladakh's ride before and rode from Manali to Khardung La. So, the experience he had riding a cycle amidst the cold waves was very chilling and unusual.
Apart from travelling on Indian streets, have you ever travelled across the seven seas?
Very recently on September 2017, I happened to visit Europe where I collaborated with a group of Pune who is into bike riding. With the entire team, we all peddled across the outskirts of Lake Constance. So basically, we have ridden across Switzerland, Austria and Germany.
As you said that you've ridden your bike in Europe before, how was your experience riding there?
Pure bliss! The atmosphere of the city is very pleasant and less-polluted, so riding there was a totally different experience; also the crowd of that city was very receiving and respectful. The entire experience was so beautiful that expressing it in words, seems to be a difficult task.
Who do you consider as the motivation and inspiration behind your cycle expedition?
My husband is the pillar of my strength; he has inspired me and motivated me to take-up such an unusual thing as "cycle expedition". When I went to Europe, my husband stayed back at home and took care of the things, around. My daughters also proved to be a great support, who in my absence very well managed the home. My daughter's school-staff also lend us the helping hand by being supportive. I am thankful to my family for standing by me and motivating me to go ahead with my newly-developed passion of cycling.
Now that you're already into cycling, how far will take up this passion of yours?
My husband and I have a dream to take ahead our cycle expedition to New Zealand. We hope that in coming years we could pursue our dream and get a chance to ride there.
You're indeed an inspiring personality, what message would you like to give to the youngsters.
Cycling has its own benefits, it not only saves your fuel and money but also does wonders for your health. Cycling is the best exercise to indulge in and if you love cycling then one should definitely try to experience at least once.
Being a house maker and venturing into cycle expedition is definitely not a cake walk! We wish Mrs. Radhika Kapote to keep pursuing into adventures activities with success and good health.
This article is the part of 'Wisdom Wednesdays' where we give insights about the lives of Pune's interesting personalities.
---
Like our facebook page to stay updated. You can also download Reacho app on Android or iOS to get interesting stories at your fingertips.