Reacho_Header
It's Friday, and we are sure, just like us, you too are tired of cooking and must be looking for good restaurants in the city. Worry no more, because we've got the perfect place for you!
If you are craving Asian cuisine but are bored of the regular Chinese or Thai food, Smiley House is the place for you! Pune's favorite Vietnamese restaurant has reopened and food lovers are rejoicing.
If Vietnamese cuisine had to be described in a few words, it would be, simple dishes packed with freshness and complex flavours! Once you have tried this cuisine, you can't really un-smell the fresh herbs and pungent fish sauce in just about every dish. Each dish could really have its own bottled fragrance.
Image source: vietnam-guide
Despite the varied landscape of Vietnam, all of the cuisine contains this brilliant balance of aromatics, heat, sweetness, sourness, and fish-sauciness. As with other Asian cuisines, it's all about the yin and yang; the sweet and the salty, the cooling and the warming, the fresh and the fermented.
Image source: sbs
It is basically comfort food redefined!
Run by two wonderful Vietnamese ladies, the restaurant serves authentic Vietnamese cuisine. They import most of their ingredients from Vietnam.
Image source: north-vietnam
Another specialty of this place? It gives you this comforting and homely feeling! The owners welcome you with a warm smile, and you instantly make yourself comfortable in this cozy cafe-like setting.
Must try
Veg: Summer roll and Pho Chua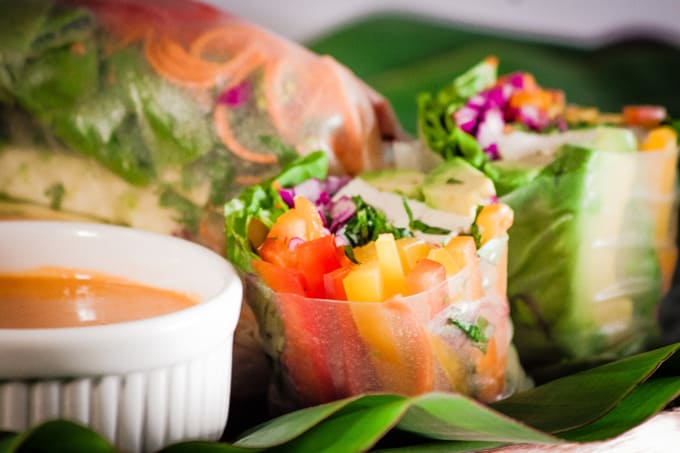 Image source: homesweetjones
Nonveg: Chicken/Beef Pho and Bun Tron
Image source: simplyrecipes
Beverages: Milk tea with jelly
Desserts: Coconut Banana Ice Cream
We know where we are going this weekend. What about you?
Cover iamge source: justdial, legalnomads
---
Like our facebook page to stay updated. You can also download Reacho app on Android or iOS to get interesting stories at your fingertips.