Reacho_Header
'Ganpati Bappa Moraya' is being heralded in every corner of the city. If you take the DP road near Mhatre Bridge, you'll see dhol pathaks are spreading their aura too. The zest and zeal is at the highest level as we all get ready to celebrate our favourite festival and welcome our beloved Bappa. We asked some Punekars about their favourite Ganesh Pandals, and almost 8 out of 10 said they loved one of the 5 Manache Ganpati.
The 5 most respected Ganpati of Pune commence the Visarjan during Anant Chaturdashi. The rest of the Pandals then follow them. Each of these 5 Ganpatis has a history. Let's walk down that lane.
1. Kasba Ganpati, Kasba Peth
This temple has a particularly rich history, as it was built by the great Marathi King, Shivaji Bhonsale and his mother, Jijamata. Kasba Ganpati leads the Visarjan every year. The Mayor of the city has the honour of performing Pooja. Other Pandals can immerse therir idols only after the idol of Kasba Ganpati is immersed. The tempo of the crowd is undoubtedly not to be missed when the first Ganpati Pandal arrives at the Lakdi Pul.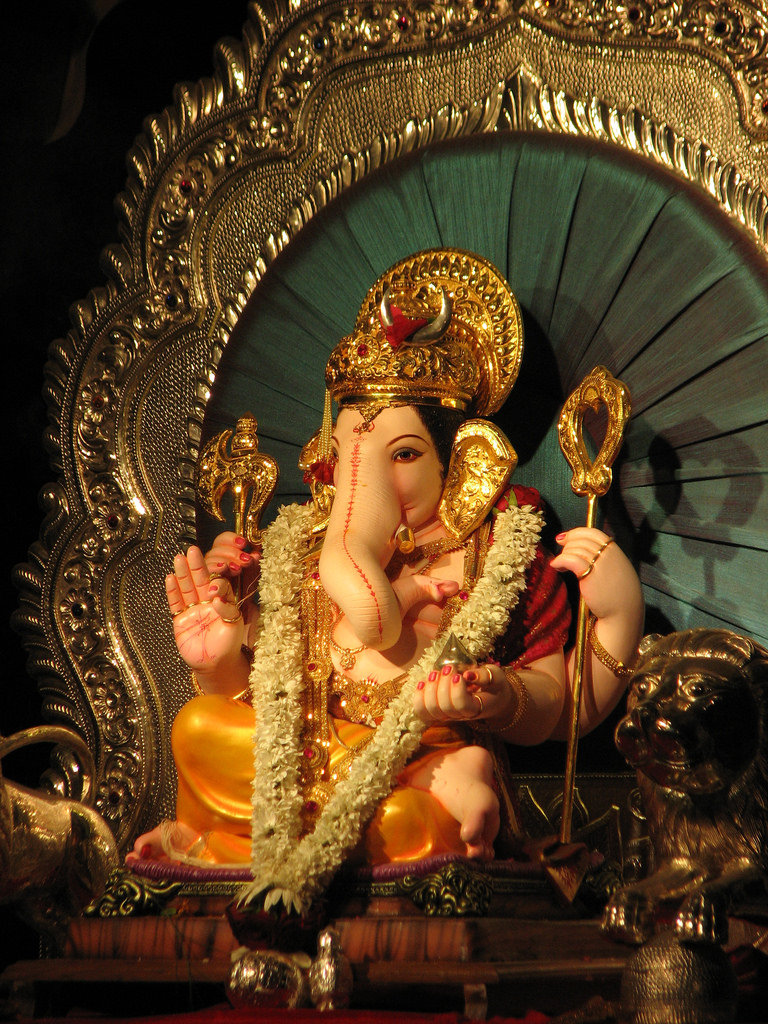 Source: abhijeet.c
2. Tambdi Jogeshwari, Appa Balwant Chowk
This happens to be the second most respected Ganpati of the five. Tambdi Jogeshwari is the temple of Goddess Durga. This temple was built in 1705 A.D, during the Peshwa era. It is believed that Peshwas would always blessings at this temple before they left for the battlefield. Every year, Lord Ganesha's idol is immersed and re-established during the following year.
Source: ehookcrook
3. Guruji Talim, Laxmi Road
Not many are aware that this temple symbolises the Hindu-Muslim unity. Guruji Talim is the third most respected Ganpati. It was established long back in 1887, when Vastad Nalban and Bhiku Shinde joined hands. Guruji Talim has one of the most attractive Ganesh idols. Lord Ganesha sits on his mouse, as his golden ears and teeth sparkle all across.
Source: wikimapia
4. Tulshibaug Ganpati, Tulshibaug
Located in one of the busiest local shopping markets, Tulshibaug Ganpati holds the honour of being the fourth of the most respected Ganpati of Pune. The statue stands 15 ft. tall, and happens to be the first Glass fibre statue since 1975, and has 125 kg of silver coating. A lot of money from this Mandal goes for charity work.
Source: Ashish 'Gary' Gandre
5. Kesariwada Ganpati, Narayan Peth
Every year, the celebrations at Kesariwada are different than other Ganesh Pandals. Less focus is laid on fancy decorations. Youth forums and competitions are organized, where well-read speakers from diversified fields come to bring together the youth and motivate them. Ganesh festival celebrations first began in Kesariwada, where Lokmanya Tilak intended to spread the message of 'Swaraj'.
Source: sakshipost
Each of this Pandal has something different to offer. The experience is ravishing and blissful. Happy Ganesh Chaturthi to every proud Punekar out there.
You Can Also Read :- "7 Ganeshotsav Pandals In Pune You Must Not Miss Out On. Here's Why"
Like our Reacho Pune Facebook page to explore Pune like never before!
You can also download Reacho app on Android or iOS to get interesting stories at your fingertips.
---
Like our facebook page to stay updated. You can also download Reacho app on Android or iOS to get interesting stories at your fingertips.