Reacho_Header
We all have stepped into the generation where people are no more shy to express their love for food. While all binge-watch those well made food videos on Facebook, seldom we come across people who actually take efforts to prepare those things at home.
While a true foodie is always on the hunt of good food and great recipe, what better platform will he/she find than a food channel? Trendy Tasty Treats is one such food channel which not only focuses on the recipe but also provides you extra information about the methods and other details of the delicacy that is being prepared.
To take you to the alley of this scrumptious 'khau-galli', Reacho got in touch with chef Sachin Joshi and actor-host Bharagavi Chirmuley.
What is Trendy Tasty Treats and when did it start?
Trendy Tasty Treats is a Youtube food channel which is conceptualized by Mahua- the producer and Chef- Sachin Joshi. Started in November 2017, our channel has so far served eight delicious yet easy to make recipes for the foodies. It is also doing well on our official Facebook page as well.
Tell us something about the name: Trendy Tasty Treats!
Most of the people are nowadays inclined towards having a healthy diet. For us, healthy food has now become a trendy food and almost everyone, today are inclined towards knowing the recipes that strike a perfect balance of health and taste. So, the recipes we share are likeable, tasty, easy to make, trendy and is a treat for all.
And also about your collaboration?
Sachin is a great chef and has served for cruise liner before. He is also a proprietor of a restaurant in Pune. I being a vegetarian; would always use to ask Sachin to recommend me some great, tasty yet healthy recipes and he used to suggest me one, every time. Since Sachin has explored a variety of cuisines outside India, he thought of exhibiting his recipes to us via some platform. Mahua and Sachin being very old friends, together we thought of coming with a food show that will be telecasted on Youtube instead of a television.
Is this the first time for you to host a food show? If yes, then how is your experience?
Source: facebook
I have hosted a television food show before, but for a short period of time. Apart from essaying many different roles in my career path, donning a cap of a host has always been a good experience for me. Collaborating with Sachin has turned fruitful for me as I get to learn many new and interesting recipes.
Men can cook: Was there any reason for coming up with such a concept?
Today, the world is progressing in every spectrum irrespective of the gender you belong. While we appreciate women who are leading their way in different professions, men on the other side have also made a space into a field that was meant only for women.
Source: youtube
Being a chef and a professor, what difference do you find working under a setup of properly directed- food channel?
Cooking under the camera setup and cooking in a restaurant is entirely different. In restaurants when we roll out the food, we can immediately gauge the feedback and the response of the customer. So, serving food in a restaurant is like a battle and we always want to win it. Whereas, the shoot is always orchestrated; you know what you have to cook and what next you have to do; so there is a systematic pattern that needs to be followed.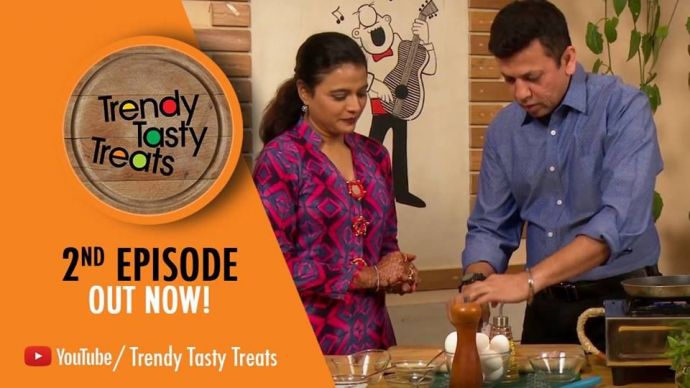 Starting from basic recipes and then moving towards the challenging ones, what kind of recipes will you share with the viewers?
Yeah, we started off with simple recipes that included chocolate and other ingredients that are readily available and easy to make. Moving ahead from simple recipes to difficult ones, we planned to start with first eggs, then chicken, lamb, and then fish. Same goes for veggies, we don't wish to directly jump to exotic vegetables. So, with time, we will also switch to recipes that are long lost but are still refreshing. We basically cater to all the food enthusiast of all age groups, so the recipes that will be presented will be modified according to it.
Reacho wishes Bhargavi and Sachin to keep up the good work and soar high in all aspects of their lives.
This article is the part of 'Wisdom Wednesdays' where we give insights into the lives of Pune's interesting personalities.
Images sourced from facebook
---
Like our facebook page to stay updated. You can also download Reacho app on Android or iOS to get interesting stories at your fingertips.