Reacho_Header
The young crowd of Pune got a new chance to go crazy this summer by indulging into splashes of cold beer. On May 20, Pune Micro-Brewery will be hosting 'Beer Olympics' in which 4 'beer athletes' compete against the other beer team to reach the glorious golden-beer-glass trophy!
This bizarre yet fun event will be hosted by Doolally, Pune on 20th May- Saturday from 11 am to 6 pm.
Here is the series of amusing games:
1. Chug Relay
The main event of the Beer Olympics. It's pretty simple really, CHUG!! CHUG!! CHUG!! CHUG!! This is one relay that will test everything - teamwork, endurance and your love for beer. Every drop counts - so don't spill
2. Jenga
Steady your hands, it's Jenga time! The underlying principle here is DUI (Deftness Under Influence). The classic 54-block tower with a deliciously evil twist, beer Jenga tests your physical and mental skills.
3. Beer Pong
Beer filled cups arranged in a triangular shape at either end of a table; the objective of the game is simple: throw the ping pong balls, drink fast, shoot straight. Easier said than done since you're seeing everything in triplicate.
4. Fletter
Each player keeps throwing a letter down and calling out ONLY 4 letter words from the lot. The objective of the game is to get maximum points. Easy? Not when you are slurring already. Remember that, calling out anything less than a four-lettered word gets you Flettered = Penalised!
5. Darts
Test your dart throwing skills in this slightly Doolally version of your favorite pub pastime. Collect points based on your aim, stack up seconds with a quick chug.You will need speed, precision, and some serious chugging skills. Drink, aim, shoot!
Beer worth Rs 50,000 will be awarded as the grand prize…!
source: indiatimes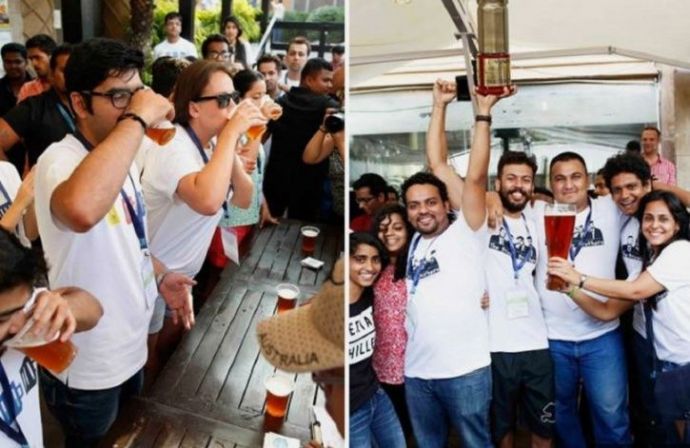 source: indiatimes
Pull up your socks folks, grab your backup and book your tickets now!
Information source: indiatimes, doolally
Title image: eventshigh
---
Like our facebook page to stay updated. You can also download Reacho app on Android or iOS to get interesting stories at your fingertips.