Reacho_Header
It's that time of the year when you look back at the year that has gone by and wonder, 'is it 31st December already?'. If you are also thinking ki 'abhi toh Diwali mana rahe the!', it is time for you to stop living in denial and look forward to good things that are coming up in the new year.
No, don't worry, you haven't accidentally opened your family WhatsApp group. Instead, we are talking about the amazing New Year's Eve parties that are happening around the city.
Haven't planned your NYE yet? We've got it covered for you. Here are a few places where you can bid 2017 adieu in style!
NYE 2018, Radisson Blu Hotel
Source: facebook
It's Radisson, bro! Period.
Karaoke Nights, Co-Brew Cafe
Source: facebook
Karaoke is always a good idea!
New Year Eve 2018, Carnations Fine Dining and Terrace Lounge
Source: facebook
Food, good company, and some Champagne, what more can one ask for!
NYE PARTY 2018, Sky Garden
Source: facebook
Farewell, 2017!
NYE 2018 With Rushabh Jain Live, Chill N Grill
Source: facebook
A slight chill in the air and good music, that's what NYE parties are made of!
ROOF9 NYE 2K18, Roof 9
Source: facebook
No tear because it's the new year!
One Last Hurrah!!! NYE 2018, Hotel Sunrise and Resorts
Source: facebook
Give a rocking start to 2018!
UNITED MUSIC CARNIVAL 2018, Elements Poonam Mall
Source: facebook
Musical detox!
International Black& white Sensation 2017, Le Meridien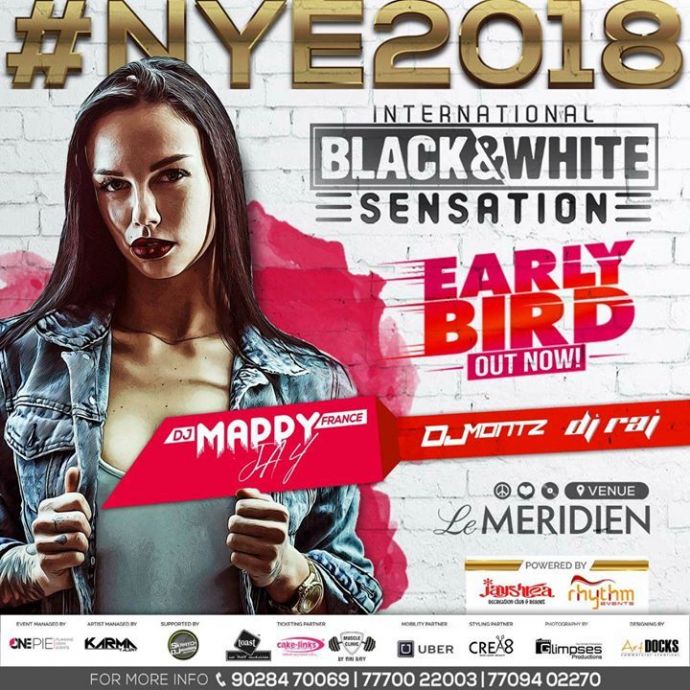 Source: allevents
Now, this looks interesting!
Midnight Madness the New Year Eve, Wonders of the World
Source: facebook
Ending 2017 on a high!
NYE17 BASH AT PABLO, Pablo- The Art Cafe Lounge
Source: facebook
Pour it all down!
Groovy Silly Times, NYE 2017 at Centre Point
Source: facebook
Dance it out!
So, what are you waiting for? Start your 2018 on a high note!
Cover image source: facebook
---
Like our facebook page to stay updated. You can also download Reacho app on Android or iOS to get interesting stories at your fingertips.