Reacho_Header
There is a general notion that Nagpur has few places to hang out as compared to cities like Pune and Mumbai. But this notion seems to be fading now. Suddenly, there is a huge outpour of cafes and restaurants in Nagpur which are pocket-friendly and have great ambiance. Plus, the food's great, too!
Here is a list of new places (in alphabetical order) in Nagpur that are worth your every penny!
1. House of Caffeine
Opened just last week, as the name suggests, House of Caffeine is a treat for everyone who craves for freak shakes. The food is pretty reasonable and the ambience, calming. The cafe has both indoor and outdoor seating arrangements, hence you can choose accordingly. Overall, a perfect place to sit back and relax with your friends or girlfriend (If you have one, obviously!)
Address: Laxmi Nagar, Nagpur
Price for two: INR 300 approx.
2. Locals
Okay, so this has to be the trendiest new place in town! The interiors are just amazing and give a certain bohemian vibe. Even though the food is tasty and prices pretty decent, the service can be a little issue here. But still, if you want to bond with your friends over booze, then there's no better place like Locals.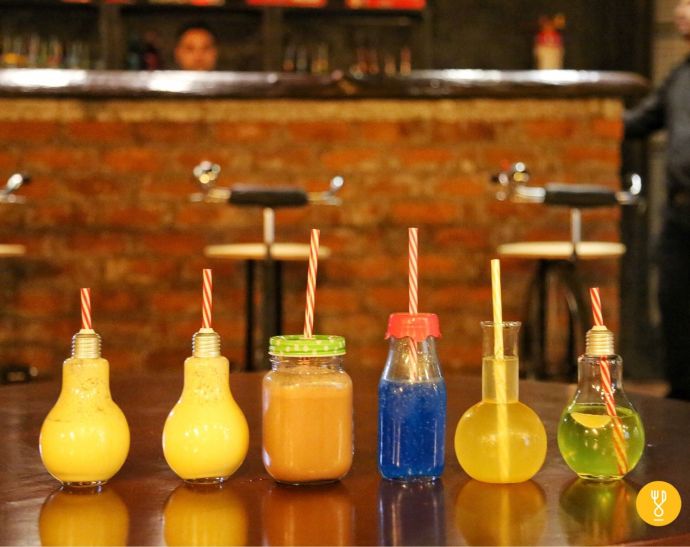 Address: Sadar, Nagpur
Price for two: INR 600 approx.
3. Nineties Cafe
We millennials are obsessed with the 90s, just like our parents were with 70s and 80s. But there's a place in Nagpur which has taken our 90s obsession to another level. Yes, we're talking about the Nineties Cafe. Right from the walls which are graced with posters of Captain Vyom and Contra to Chacha Chaudhary and Batman comics in the book shelf, this cafe will take you down the memory lane. If you want to go on a nostalgic trip of the 90s, kindly considering visiting this one.
Address: Traffic Park, Nagpur
Price for two: INR 250 approx.
4. Nukkadwala
If you're broke and not willing to spend too much on food, then you should definitely visit Nukkadwala. A cute little eatery with rustic ambiance, Nukkadwala is known for its North Indian cuisine and every dish is under 100 bucks. Classy yet not pricey is the phrase which can define Nukkadwala in a perfect manner.
Address: Opposite NIT Swimming Pool, Nagpur
Price for two: INR 200 approx.
5. The Sidewalk Cafe
If you crave for good mocktails, then a visit to The Sidewalk Cafe is mandatory. Our favorite? The Pina Colada. Placed perfectly in the heart of the city, The Sidewalk Cafe opened just two weeks ago. Every dish on the menu is less than 100 bucks, making this cafe one of the few pocket-friendly eateries. The combo deals offered here are quite lucrative too!
Address: Traffic Park, Nagpur
Price for two: INR 200 approx.
6. Tapri- The Chai Books Cafe
Source: Facebook
The concept of book cafes is very popular in cities like Bangalore and Pune and with Tapri, even Nagpur has got one! Tapri- The Chai Books Cafe is slowly and steadily getting popular among youngsters for its unique concept. Even though the collection of books is not great, still you can be your lazy self, order a chai and just read, without getting disturbed.
Address: Abhyankar Nagar, Nagpur
Price for two: INR 250 approx.
So, what are you waiting for?! Hurry up and grab some quick bites at these amazing new places. Make sure you keep your phone properly charged because these places are worth your Instagram and Snapchat story.
To know more places visit the following link of our previously written article :- 8 Low Budget Restaurants In Nagpur For A Date With Your Partner!
All photos sourced from Tongues and Scissors
---
Like our facebook page to stay updated. You can also download Reacho app on Android or iOS to get interesting stories at your fingertips.