Reacho_Header
Dharampeth is basically the answer to everything in Nagpur. Be it food, shopping, jewellery, electronics, educational needs, or one of the oldest single-screen theatres in Nagpur, DP has it all. Here is your definitive guide to the best places for all your needs, on the stretch between Shankar Nagar Square To Coffee House Square on the West High Court Road: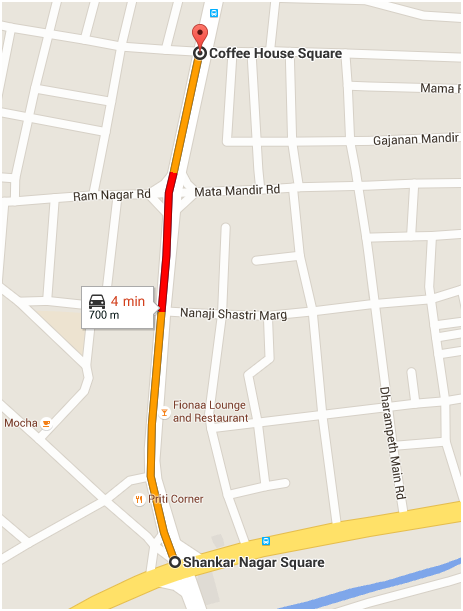 1. Food
Haldiram's
Location: Shankar Nagar, another outlet adjacent to Sudama Theatre
Known For: Nagpur's favourite destination for pure vegetarian Indian and continental cuisine and Indian snacks. The bigger outlet near Shankar Nagar Square also has a banquet hall for small gatherings.
Contact: 08007674313
Priti Corner
Location: Pushpanjali Building
Known For: Scrumptious Samosa Chaat, Kachori and Ragda Patties
Contact: 07122545669
Dinshaw's
Location: Again, two outlets, one next to Haldiram's Shankar Nagar, and another near Sudama Theatre
Known For: Home-grown variety of ice creams, ice cream cakes and other frozen desserts at decent prices
Contact: 07122538857
Jamnagari Farsan
Location: Near Batukbhai Sons Jewellers
Known For: Wide range of delicious Gujarati and local savoury snacks and sweets, including rice dhokla, thepla, jalebi and milk cakes.
Contact: 07122229936
Lahoree Bar and Restaurant
Location: Coffee House Square
Known For: Mughlai and Chinese offerings. The butter chicken is highly recommended. Also serves alcohol.
Contact: 07122533808, 07122531753
Reddy's Gokul Brindavan
Location: Coffee House Square
Known For: Simple and wholesome South Indian fare at throwaway prices. The Masala Dosa and Filter Coffee are must-tries.
Contact: 9970017155, 07122543007
Gupta Ice Gola
Location: Near Batukbhai Sons Jewellers
Known For: Their trademark Fruity Milkmaid Ice Dish, along with the regular summer favourites, Lemon soda and Ice golas in many flavours.
Contact: 09665274043
2. Apparel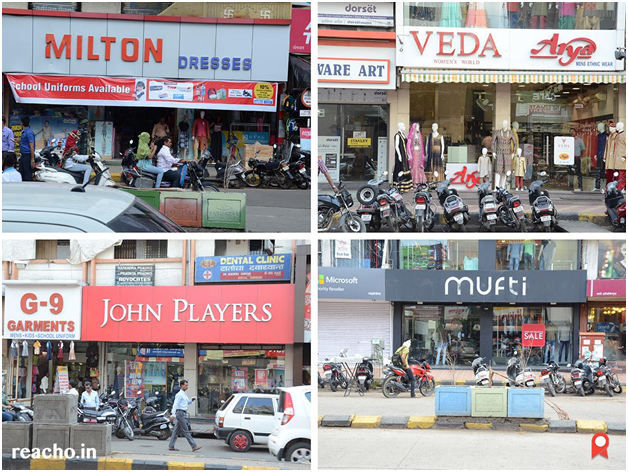 Milton Dresses
Location: Near Sudama Theatre
Known For: All your readymade garment needs.
Contact:098230 25784
Mufti
Location: NIIT Building opposite Haldiram's snack outlet
Known For: Branded menswear
Contact: 07122562984
Metro
Location: Opposite Krishnam Computers
Known For: Branded footwear for men and women
Contact: 07122543794
Veda and Arya
Location: Opposite Batukbhai Sons Jewellers
Known For: Men's and Women's Apparel
Contact: 0712 650 7640
Manyavar
Location: Nipane Bhawan, Opposite Batukbhai Sons Jewellers
Known For: The best selection in ethnic and Indo-western men's garments
Contact: 07122523050
3. Jewellery
Batukbhai Sons
Location: Sheth Complex
Known For: Stunning variety in gold, silver, diamond and precious stone ornaments in all styles. BSJ also carries luxury dinnerware and gifts from renowned brands like Versace.
Contact: 07122550464
4. Electronics
Elektrokit
Location: Pushpanjali, opposite Haldiram's
Known for: Electronic kits for Do-It-Yourself projects, components for domestic, educational and industrial applications
Contact: 9325208199, 07122538382
Vedom's
Location: Near Sudama Theatre, Gokulpeth
Known For: Electronic appliances in all major brands
Contact: 8600000505/989
5. Home Appliances
Bapat Shop
Location: Opposite Union Bank of India, Coffee House Square
Known For: A one-stop shop for all home appliances
Contact: 07122531838
6.Opticals
Prakash Opticals
Location: Opposite Anand Bhandar
Known For: Selection in reading glasses, lenses, sunglasses in all brands including Essilor, Ray-Ban, Gucci, D&G and Bausch & Lomb.
Contact: 07122520062
7. Hospitals
Yash Homoeo Clinic
Location: Near Andhra Bank
Contact: 9822474608
National Cancer Institute
Location: Near Batukbhai Sons Jewellers
8. Other Utilities
Trends Salon
Location: Near Haldiram's
Known For: Unisex beauty services and wedding packages
Contact: 9370005778, 9923357176
Prince Dry Cleaners
Location: 'Pushpanjali', Opposite Haldiram's
Contact: 93731 25474
Patanjali Mega Stores
Location: Laxmibhuvan Square
Known For: India's first store offering all Ayurvedic formulations as well as consumables by Patanjali
Sudama Theatre
Known For: One of the oldest single-screen theatres in Nagpur to be air-conditioned. Especially great for catching a Marathi movie.
Contact: 07122532600
Out of cash? Here are some banks and ATMs nearby: Union Bank of India, Dena Bank ATM, Bank Of Maharashtra, IDBI Bank, Andhra Bank.
Have we missed any other important destinations on WHC Road? Which area of Nagpur would you like to know about next? Let us know in the comments below!
Title image: blogspot
Download Reacho on Android or iOS to get more interesting stories at your fingertips.