Reacho_Header
When you're preparing yourself for a tête-à-tête with Mrs. Universe Lovely, 2017, you arm yourself with questions like 'What is beauty according to you?' and so on. But walk into Shilpa Agarwal's house and you can gauge her definition of beauty by the chic aesthetics she has infused in every little nook and corner to make her abode look plush.
As you enter, a towering Shilpa with her warmest smile makes you feel comfortable and at ease. She will turn from being a hostess to a doting mother asking her son to study a particular chapter to being CEO-like when she talks to her employees over the phone. All of it in a minutes time!
We sat down with this multifaceted lady and caught up with her on her last achievement. The excerpts:
Q) What were your thoughts before you left for the pageant?
A) The two months before the pageant was the most crucial time for me. Since it was an international beauty pageant, I had to make sure that I was fit and in shape, especially for the mandatory swimsuit round. If you've seen my pictures from before, you'd have noticed that I was still plump. It was also around the same time that GST was coming into force and as a businesswoman, I couldn't have overlooked that responsibility of mine. Working on both, my fitness and my business made things a little difficult for me. But the last thought was, 'I just have to do this. Anyhow!' and make Nagpur and everyone who looks up to me, proud.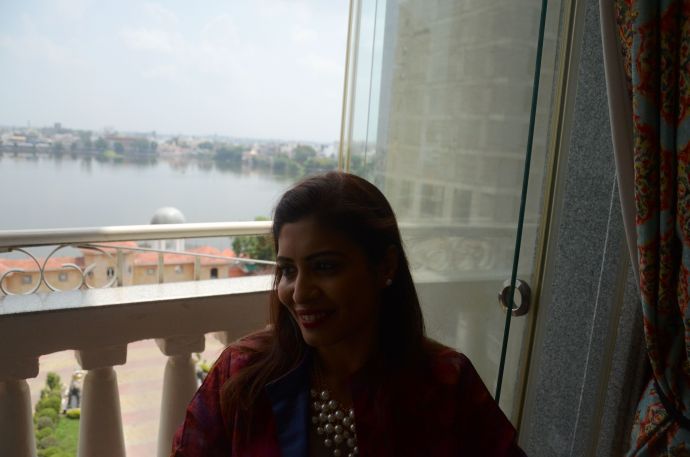 Q) Tell us about your pageant rounds.
A) We had three rounds. The first one was the national costume round where I wore an ensemble designed by Nidhi Gandhi. I thoroughly enjoyed wearing and sashaying around in this one! The second round was the one where we had to wear a costume designed by a South African designer since the pageant was held in Durban. It was essential I carried off their costume gracefully since I wasn't well equipped about African fashion and that was quite challenging! The last round was the gown round.
Q) How was the competition? Did you feel intimidated?
A) The competition was really good. It wasn't that easy. Anyone who participates in such pageants should take the competition seriously. As for if it intimidated me, well I'd be lying if I said a no. The women, especially from the European continent were breathtakingly beautiful and endowed with a gorgeous body, good command over English, etc. One does tend to feel a little insecure but the key is to not get lost in your thoughts of insecurity and shrug yourself out of it.
Q) Was there any point or any round where you felt unsure about winning?
A) No. There wasn't a moment I felt unsure about myself or winning. Although, just two days before the pageant I was down with fever and flu. The worst part was having no one around to pat my back and say, 'Come on Shilpa, you can do it!'. But it was the organizers who kept encouraging me to get well and I was humbled by their constant egging on. On the final day, I popped in six pills to get myself to stand and perform out there.
Q) Coming back home after winning one of the titles, how does it feel?
A) Super excited! I'm very happy to be back in Nagpur after so long. It is a great feeling to see people get excited about my achievement than what I am. All my hard work paid off! But I missed my family tremendously in the 10 days while I was in Durban.
Q) What's next?
A) Honestly, I'm not a pageant person. I'm more of a businesswoman and my factory is my first love, after my husband Akash of course! As of now, I want to expand my business to a greater level since it is already in a transitional phase, and that demands my immediate attention. Akash and I have a goal to have 500 dealers across India by 2020.
Q) So I take it that your husband, Akash, is indeed your greatest influence.
A) Without a doubt! It was because of Akash that I participated in Mrs. Nagpur, the first pageant of my life. He has been the one to push me to join the business and it was his wish that I take part in these pageants. He keeps reminding me of my potential and that there's nothing I cannot achieve. He is my life coach and whatever I am today is because of him. When I married him, I was just another 12th qualified girl with absolutely no knowledge of fashion. I did not know how to wear a western outfit or stilettos or even wear makeup. It was Akash who taught me all of it. He says, he now awaits the day when he'd be addressed as 'Mr. Shilpa Agarwal'. (laughs)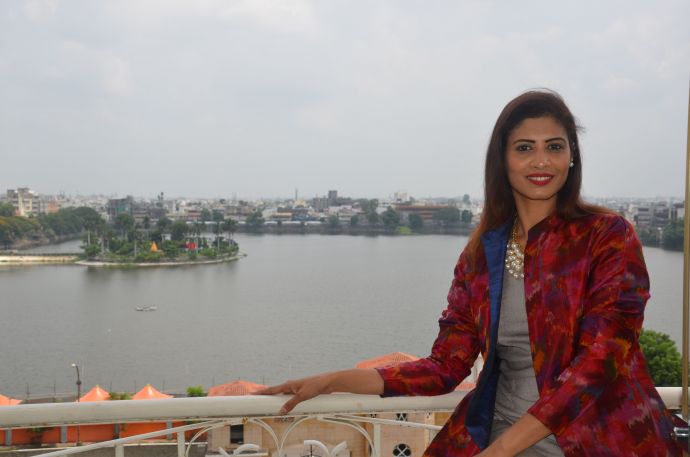 Q) What was the turning point of your life?
A) There were actually three. First, when I tried to commit suicide, a story most of them know. It was my family and Akash who stood by me and helped me give life a second chance. The second was when I went to China and Thailand and saw the woman there work at par with men which made me take my business seriously. I came back and learnt every aspect of my business to its core details, even going to the extent of attending coaching of engineering drawing just to understand how a piece of furniture is made and assembled. The third turning point was those 20 days before I was to participate in Mrs. India. I had reached a point where I just wasn't losing any weight. 20 days before I said to myself, 'There is no way I am going to let myself get kicked out in the 1st round itself,' and started working out vigorously. I focused on my diet and fitness much enough to lose 10kgs in those 20 days!
Q) What have you learnt about yourself in this journey?
A) Never give up! That is one mantra I have stuck on to.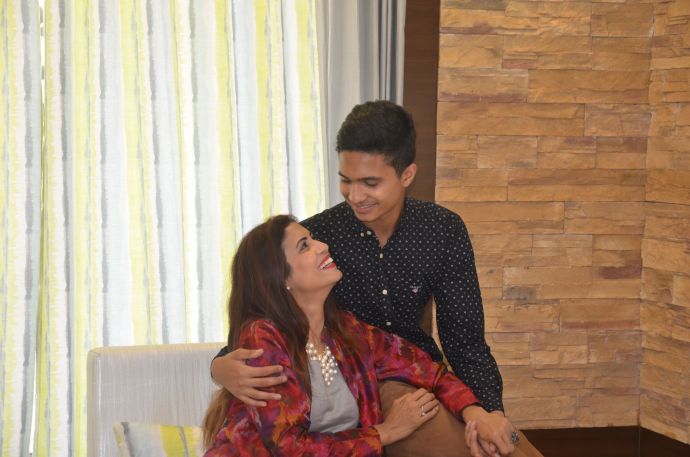 Q) Bringing out you fun side, we have a rapid fire round for you.
Comfort food: Roti, sabzi, daal and chawal.
Favorite restaurant in Nagpur: Barbecue.
Your fridge is stocked with: Fruits and veggies.
You love cooking: Pizza, because my son loves it.
Next vacation destination: South Africa.
Your fashion icon: Sonam Kapoor.
Favorite perfume: Burberry.
Priceless possession in your closet: My Armani watch.
All time favourite movie: Jab We Met.
Favorite shopping destination: Dubai, of course!
You don't leave your house without: Kajal, cell phone and my flash drive.
Your makeup trick FTW: Do your eyes well!
On your playlist: Chak De India.
Brand fixation: Zara for casual wear, Mango for party wear and Gap for formal wear.
She almost giggles around like a little kid by the time this round is over. And on a high note like that she signs off!
---
Like our facebook page to stay updated. You can also download Reacho app on Android or iOS to get interesting stories at your fingertips.