Reacho_Header
India's favorite 'The Octave – Festival of the North East' is making an entry in Nagpur and a grand one at that!
South Central Zone Cultural Centre (SCZCC) in association with the West Zone Cultural Centre will host the festival in Nagpur.
On Wednesday, SCZCC director Deepak Khirwadkar along with Furkan Khan, who is the director of the west zone, announced about the festival and its dates to the media.
"Around 350 artistes and 25 craftsmen from Ärunachal Pradesh, Assam, Meghalaya, Mizoram, Manipur, Nagaland, Sikkim and Tripura have already arrived in the city for the event and are rehearsing for the performances," said Khirwadkar.
'Octave' was initiated by the Ministry of Culture, Government of India to exhibit the rich culture and heritage of north-eastern states. The ministry also aims at providing the right platform for the artists and artisans from the region.
The region comprises eight States – Assam, Tripura, Arunachal Pradesh, Nagaland, Meghalaya, Mizoram, Manipur and Sikkim – hence the name Octave.
The fest was first held in the year 2006 at Delhi. It was inaugurated by the then prime minister Dr. Manmohan Singh. Since then, the North East Zone Cultural Centre, Dimapur [NEZCC] has been taking the fest to different cities and its other counterpart Zonal Cultural Centres.
The curtains to the Nagpur edition of the fest will be brought up by union transport minister Nitin Gadkari at 6pm on December 1.
The doors will be open for public from 3pm, whereas the performance will begin at 6:30pm.
"The premises of the cultural centre have been decorated to create ambience of the north-east states. The open air stage where dance performances will be staged has been given a backdrop of bamboo houses as it is widely used in the north-east," said Khan.
Some of the highlights of the festival are as follows:
December 1 – Inauguration and choreographed dance performance
December 2 - Manipuri Rats
December 3– Sattariya: A classical dance from Assam
December 4 – Instrumental music performance by an Assamese band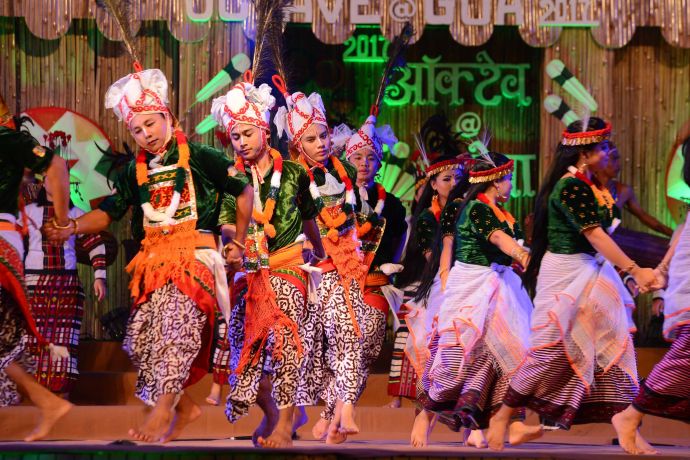 "There will be 15 folk dance, one instrumental and two classical performances by the artistes," Khan said. Kolkata's noted dancer, Tarun Pradhan, will choreograph the dance presentations.
"The stalls will exhibit and sell crafts from the north-eastern states. A painting exhibition by artists from theses states will also be organized at the art gallery," said Khirwadkar.
There is no entry fee for attending the fest. It will be open for all.
Information and title image source: sczcc
---
Like our facebook page to stay updated. You can also download Reacho app on Android or iOS to get interesting stories at your fingertips.