Reacho_Header
"A Sunday well spent brings a week of content"
Nothing could've explained my Sunday of Friendship Day any better. Not falling prey to any of those Friendship Day DJ party offers or succumbing to a 52 YO's charm, I decided to enroll myself into this library to read a book. How significant, you might find yourself saying. But what if I told you my book spoke to me. What if I said the book was a person in flesh and blood who narrated their stories while I planned on being consumed by each flowing chapter.
Welcome to 'The Living Book Project'.
A concept loosely based on the Denmark's Human Library was the brainchild of Mandar Pandhare, Manali Deshpande, and Giriraj Panpaliya. The notion was simple, bringing out the survival stories of people within the city through their own words. They indentified 12 individuals and catalogued them as 12 books. The registrations for the event were completed within a span of 48 hours.
Chatting up with a few readers and books post the event got me asking about their experience. Little was I ready for the men and ladies go gaga about the experience that made their Sunday special AF.
We caught up with Chaitanya Deo, a CA final student who said, "The concept was awesome. What I felt after reading my book was absolutely inexplicable."
Latifa Dhun, a business analyst couldn't stop raving about how overwhelmed the experience got her. "It was a beautiful concept. It is not every day that we get to hear and listen to books. One gets to connect more and take in the nonverbal cues and personal expressions which is something amiss while reading a hardbound journal or book of such people. A book makes you read between the lines where as the living book's stories are just laid bare with nothing left to read between. Also, nothing beats the experience of physical interaction with the book." she said.
Another reader, Arjun, an engineer, spoke about how he found the organization of the event awesome. He claimed the idea to address the social issues these books dealt with was perfect and hit the right note.
While the idea and organization were near to perfect, it was the books who stole the show! The delight was much visible on every reader's face. Latifa said, "My book, 'Beyond Bipolar' was a godsend and just something I needed. I'm sure it must've taken a lot of courage and braving the stigma to open up and talk about it. The book spoke more with a view to bring awareness along with the narration of the survival story."
Talking about his book 'The One Legged Wonder', Chaitanya said, "I was really inspired. Since I'm a CA student, I have my own hardships and difficulties which I could relate to my book's story. Arjun reveals, "My book 'Restructuring For The Seven Seas' really motivated me. I found him to be absolutely straightforward, to the point without any brags.'
'Leadership through ownership' goes value of one of the noted social organization. Conversing through many readers and sneak peeking through the feedback forms, I found a good lot of attendees asking if they could volunteer with the project. One enthusiastic reader, on the condition of anonymity, said, "I just want more of such events and I could do anything for that, even if it means volunteering despite my hectic schedule."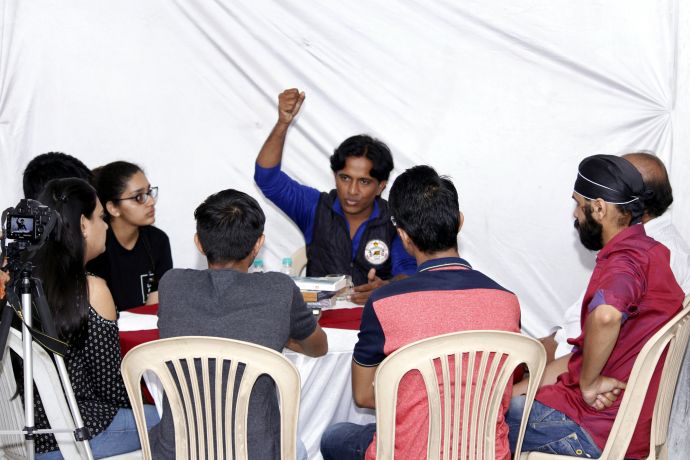 Some readers chipped in their suggestions and proposed some tweaks in the format. Arjun says, "I was so impressed that it left me and I guess many wanting to read more books. Maybe they should work around this the next time."
Asked Latifa if she wanted to read more books like Arjun, she goes a step further in adding that she would love for such an event to be a weekly one. "It would mean more books, more stories and interaction with old friends and new." she chirped.
Latifa went on to recommend, "The format could be tweaked enough to accommodate stories of common people like you and me. There are many out there who have some stories of themselves but don't think it could be significant enough to impact anyone. Such stories need to be brought out and such people need to be given a platform."
When conveyed this the organizers, they smilingly informed about how this was already thought through and that one of their books who's story was unknown even to the close friends because it was thought to be insignificant, came out and impacted the readers.
Now was the time for me to fill this space with a mandatory quote of one of the books. Reaching out to 'Beyond Bipolar', I started off in my journalist-like tone asking, 'So how was your experience of talking about your story?'
Seconds within answering my question had me ditching my tone and ended up in a beautiful long conversation. The book stated, "I have had my share of painful days but I've never spoken about it before. More than talking about my story, it was the last ten minutes of interaction that left me humbled and speechless."
Ask her how she felt about that moment when a cancer-survivor broke down on hearing the story, she says, "I just couldn't bring myself to talk to her when she told me about how she ended up with insomnia because of chemotherapy and hadn't slept for 6 months!"
The book went on, "People asked me a variety of questions. A reader even asked how I could bring myself to talk about it to which I told her that I had attempted suicide 3-4 times and that I understood the meaning of my life which got me talking about my story with an aim to bring awareness".
What left me on a high was this book's chant of endurance, 'Survival may be difficult but dying is painful'.
To me, this one event is a chaos theory in making, one flap at a time.
---
Like our facebook page to stay updated. You can also download Reacho app on Android or iOS to get interesting stories at your fingertips.