Reacho_Header
Compassion - A combined feeling "to suffer with", of sympathy and a desire to help the ones suffering. When a person identifies themselves with another person, with their experiences and sufferings, and decides to go all out to help them through their sufferings - that is compassion. In a world where every man acts for himself and people look at each with a sense of jealousy and rivalry, kindness and selfless giving are virtues defining humanity.
Madhav Netralaya, an Eye Institute and Research Centre in Nagpur, is working with such compassion. Founded in the memory of Param Pujyaniya Guruji Shri Madhavrao Sadashivrao Gowalikar, Madhav Netralaya Trust runs a unique seva model with the help of its selfless volunteers. The institute provides its state-of-the-art infrastructure with a charitable approach and patient-oriented functioning which is dedicated to give affordable yet quality eye care.
So, what exactly is the "Seva Model"?
Madhav Netralaya is working tirelessly towards bridging the gap between financial constraints and high-quality eye care.
In case of an eye surgery, there are 3 main costs applicable:
1. Disposable Used in Surgery
2. Hospital costs
3. Surgeon's fee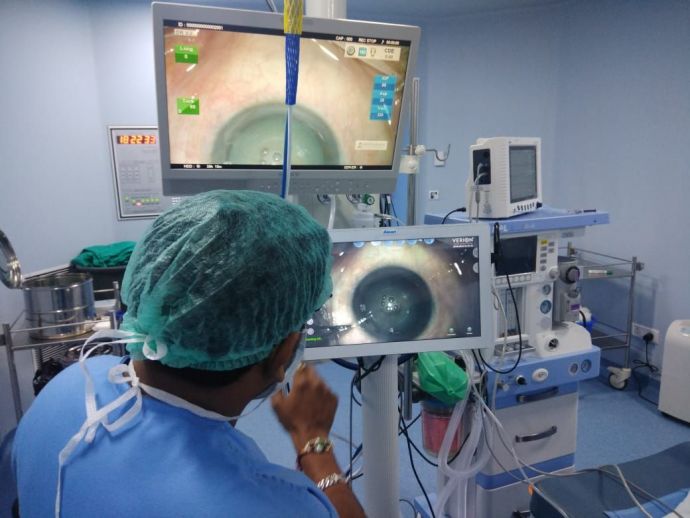 The institute started its initiative called the 'Unique Seva Model of Kindness and Selfless Giving' on August 20, 2018. Under this initiative, Madhav Netralaya provides quality eye care and other facilities free of cost to senior citizens.
Any other patient that walks in for surgeries pays only for the disposables used during the surgery, while hospital infrastructure cost and doctor's fees are waived off.
Treated patient may or may not donate any amount to the institute as per their wish. Donations are accepted from other visitors as well.
The institute which was inaugurated by Chief Minister Devendra Fadnavis has carried out over 90 eye surgeries since its instigation in March 2018.
What are the services offered by the institute?
The institute specializes in providing affordable and quality surgeries in cataract, retina, glaucoma, cornea, and squint.
Other salient features of Madhav Netralaya:
1. Advanced Bladeless Surgery Using Femtosecond LASIK/OCT Technology (Completed 8 operations)
2. Latest Diagnostic Equipment & Advanced Retinal Lasers
3. In-House Pharmacy & Optical Shop
4. Counsellors for Help and Support
Location and Contact details:
Address: Purushottam Bhavan, Samaj Bhushan Grih Nirmaan Sahakari Sanstha, Near Navjeevan Colony, Ajni, Nagpur, Maharashtra- 440015.
Contact: 0712-6785200, 2253233
You can also reach out at: madhavnetralaya@gmail.com or madhavnetralaya.org
Image Source: patankarconsultants
---
Like our facebook page to stay updated. You can also download Reacho app on Android or iOS to get interesting stories at your fingertips.