Reacho_Header
A Sunday is expected to be a day to be our lazy best. A late morning, breakfast in bed and something to while away time in the evening is almost every millenials' idea of a perfect Sunday.
So what if I tell you that around 100 Nagpurkars, mostly millenials, woke up in the wee hours of the Sunday that went by, buckled up their shoes and braved a chilly morning to take a stroll with the history of the city? A cynical me would laugh it off, but a hopeful me would keep my fingers crossed.
Defying the cynic side of many like myself, the Nagpur chapter of The Goodwill Tribe organized their first 'Heritage Walk' in the city on Sunday, February 18. The event was hosted in association with the Vidarbha Heritage Society (VHS) which was led by Pradyumna Sahasrabhojanee, an architect by profession and also the president of VHS.
The idea behind the event was to bring the residents of Nagpur of all age groups, especially the youngsters, together and make them understand the history of Nagpur.
Cicero's thought 'To know nothing of what happened before you were born, is to forever remain a child,' played a major role in planning the walk.
With the vision of connecting Nagpurkars back to their roots, the tribe started working on the event as early as a month.
The pre-works of the event included the tribe to take a walk themselves as a tourist, research in depth about each site, make presentations and cue cards, plan permissions and safety hacks and a demo walk two days before the event to get the facts, figures and essence on point.
On the D-day, three batches took the 'walk' within a gap of half an hour each. The attendees' enthusiasm made them brave the sun, the traffic and the long walk that covered 15 heritage spots sprawled across the city. The 'Heritage walk' started at 'Gandhi Gate' and ended at 'Chitnavis Wada'. Each one of them was handed a little souvenir designed and created by the tribe itself as a token of appreciation.
The end of the walk saw many of the attendees get pensive about the history, ask questions and even express their interest in maintaining and doing their bit for the preservation of the sites. Looks like it was 'Mission Accomplished' for The Goodwill Tribe!
Here are some of the pictures of the heritage sites that were covered in the walk:
1) Gandhi Gate: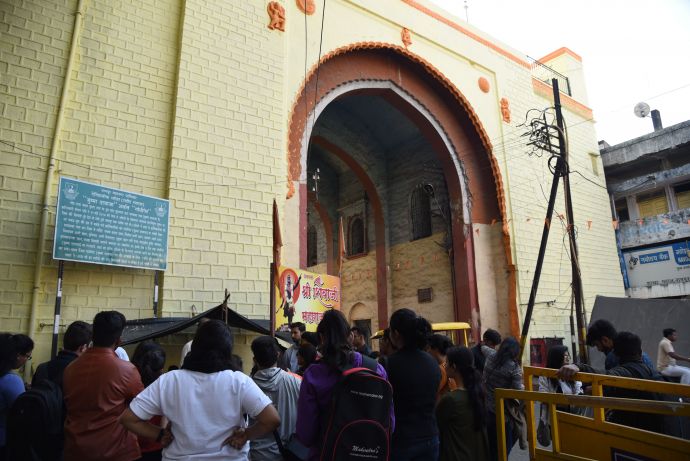 2) Rukmini Temple Complex:
3) Deshmukh Wada:
4) Senior Bhonsale Wada:
5) Bakabai cha Wada:
6) Gondwada Gate:
7) Kotwali:
8) Old Library Building:
9) Chitnavis Wada:
All images sourced from Devashish Jalamkar, Omkar Dhamangaonkar and Nikhil Dohale
---
Like our facebook page to stay updated. You can also download Reacho app on Android or iOS to get interesting stories at your fingertips.