Reacho_Header
February is almost over and Nagpur has already started to feel a lot like summer. We now prefer to sit at home in the afternoons and all the working folks want is to wrap up their work early and get home early to enjoy the pleasant evenings!
But the heat definitely hasn't wilted Nagpurkars' enthusiasm. February is also the month that's usually filled with loads of creative and fun events and this weekend is no different.
Now, if you haven't made any plans for the weekend or your plans for the weekend include going to the mall and watching a movie, trust me, you guys are in for a real treat. We have curated some of the best events happening around the city. Poetry, technology, theatre, comedy, whatever is your kind, we've got it covered for you.
Have a look!
AXIS 2018, VNIT
Source: facebook
Now, all you folks who eagerly wait for this time of the year only for AXIS, the wait is over guys! VNIT is back with the city's largest tech fest AXIS. With over 30 events that include an exhibition by ISRO, this 3-day tech fest is looking really promising!
When: 23-25 Feb
Where: VNIT
Shadows
Source: facebook
For those of you who want to spend their weekend on a lighter note, Shadows is what you should be attending. A one of a kind stand-up comedy show put together by Daniel Fernandes' will not disappoint you! In his latest stand-up comedy show, Fernandes' talks about his journey over past 6 years.
When: 23rd Feb, 8-10pm
Where: Chitnavis Centre
Dastan-E_Sharar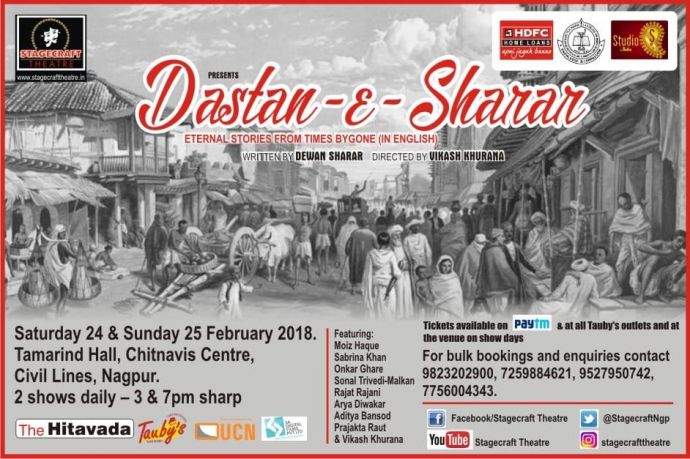 Source: facebook
Theatre lovers behold, Stagecraft is back with its latest production Dastan-E-Sharar, a play that recounts Eternal Stories from Times Bygone. Directed by Vikash Khurana, this one is something to look forward to.
When: 24-25 Feb
Where: Tamarind Hall, Chitnavis Centre
Vortechx 2018 Open Mic
Source: facebook
Vortechx this year has come up with a unique open mic, where participants can perform poetry, comedy, music or any other form of expression.
When: 23 Feb, 4 pm
Where: Ramdeobaba College of Engineering and Management
Doodle-O-Rama
Source: facebook
If you like doodling in your spare time, this 2-hour workshop will make you look at it a little more seriously. Conducted by the famous Tejo Guna, this fun workshop will make your lazy weekend productive!
When: 24 Feb, 5-7pm
Where: Chaos Theory, The Co-Working Space.
We guess thanks are in order??
---
Like our facebook page to stay updated. You can also download Reacho app on Android or iOS to get interesting stories at your fingertips.