Reacho_Header
They say, "One kind word can change someone's entire day."
Now imagine weaving one kind word after another till it forms a beautiful letter.
Envision how much compassion would an object as inanimate as a simple paper would hold within that letter.
Humbling, isn't it?
Welcome to the 'The Goodwill Tribe'.
A bunch of people who believe kindness and human connection is that spark needed to ignite the wildfire of change in the world. Inspired by this feeling, the group went on to design numerous projects and events for people to involve themselves and tap into the luxury of feeling rich by spreading kindness. The group aims to foster deep human connections through small yet significant acts of inherent goodness and stay connected strong by the 'kindness' glue.
The 'Goodwill Tribe' operates in ten cities viz Dubai, Sydney, London, Kuwait, Bangalore, Pune, Chennai, Kochi, Trivandrum, Mumbai and are now marking their footprints in Nagpur.
In their flagship event in Nagpur, this human connect is being established through the charming old art of letter writing.
The organizers look a huge leap in creating the connect by keeping a theme of 'Letter writing to Cancer survivors'. They maintained that since the project is about humanness; why not explore it in its best possible form.
But it's not as serious as it sounds. The event is set to happen in the cozy venue of '3 Beans Coffee Bar' and there's a guaranteed company of coffee and camaraderie while you jot down your heartfelt messages to these cancer survivors. The organizers even aim for a homecoming of the joy of writing and receiving letters.
We caught up with one of the organizers Ankit J. Wagh who seemed mighty excited about the Sunday's event. "It is an extremely novel concept for me and I'm sure even for the people of Nagpur. It is quite unfortunate that the people of our generation have forgotten the art of writing letters to their near and dear ones. I myself don't remember when was the last time I wrote a letter to anyone. Letter writing has now become an endangered practice, I feel," says Ankit.
Remind him that we're still emailing each other to which he quips, "Yes, that has been quite prevalent now. Most of our thoughts are being conveyed by emails, social networking sites and even tagging in memes. But letter writing is a different emotion all together. Writing without the usage of a dictionary or using the Internet to fixate quotes is quite organic and interesting!"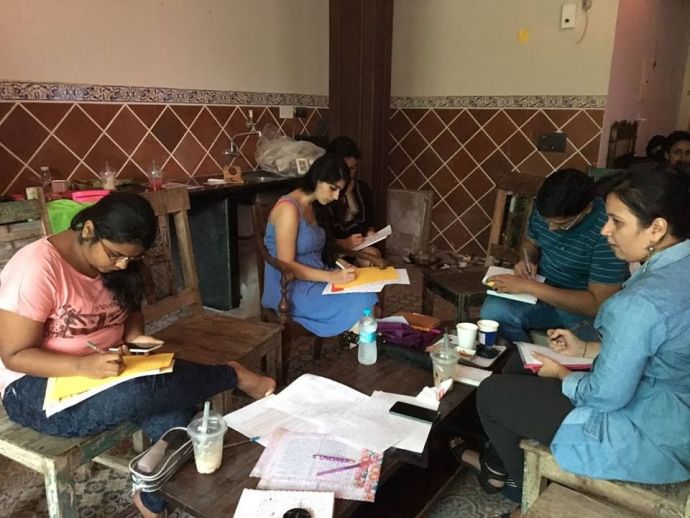 Talking to Ankit gets one pensive about how heartwarming it would be for a recipient to receive letters from strangers.
It would be nothing less than another teaspoon of sugar to their evening cuppa as they read one with it.
For Apurva Pande, a registered participant, this experience is close to her heart.
Sharing her thoughts, she says, "My grandmother and my uncle had been diagnosed with cancer a couple of years ago. While my uncle succumbed to the malice, my grandmother made it just fine. We as a family have seen both of them go through the painful chemotherapy sessions. My mother had the most difficult time of her life seeing two of her loved ones battle it out."
Ask her what is expecting from this event, she says, "Nothing can fill the lacuna caused by cancer. Through this event, I'm sure many survivors out there reading our letter would understand that someone is out there to understand and empathize with them. I feel that feeling would be priceless and I was to be a part of such a feeling, through this event."
As for Ankit, he chips in saying that he is extremely positive about this event. "We are, as of now, 90 registrations and counting. I'm quite sure that our event would have a great responsive and the participants will be left with a overwhelming experience," he says while signing off.
Moved much and want to be a part of it?
Sign up on https://goo.gl/XJDHcL
Go on, for kindness is priceless and this event doesn't cost anything.
See you all on 10th September, 2017!
All images sourced from facebook.
---
Like our facebook page to stay updated. You can also download Reacho app on Android or iOS to get interesting stories at your fingertips.