Reacho_Header
We know all Nagpurkars at some point feel that we live in a boring city with hardly any weekend getaways. We also sometimes envy Punekars and Mumbaikars, not because they live in fancy cities, but because they have so many forts, heritage places and hill stations at a stone's throw.
Nagpurkars, don't feel sad! We have put together some of the best heritage places around the city. Since these places are relatively less visited, they are perfect for a quiet weekend.
Nagardhan Fort
Image source: tripadvisor
Nagardhan, near Ramtek was the ancient capital of Vidarbha during the Wakataka period (250 A.D. to 550 A.D). Then known as Nandivardhan, it has a splendid fort built by the Gond Kings in the 16th century A.D. The modern day Nagardhan is a quaint village worth a visit.
Narnala Fort and Wildlife Sanctuary
Image source: tourmet
The 700-year-old Narnala fort has been built by the Raja of Achalpur at an altitude of 3112 feet above sea level. The fort is built on a spur of the Satpuda hills and is surrounded by dense forests and waterfalls of great scenic beauty.
The wildlife sanctuary was noted in the year 1997 and occupies an area of 12.35 sq.kms. Several species of Deer, Nilgai, Wild boar, Monitor lizard and Hares as well as Parakeet, Mynah, Wild hen, Koel and several species of Waterfowl abound here
Gawilgarh
Image source: wikipedia
Gawilgarh Fort is near Chikhaldara hill station in Amravati district. It is believed that the fort is 300 years old. Some beautiful idols, carved during the period of the Nizams, when Elichpur was their capital, are worth seeing. Elephants, bulls, tigers, lions and Hindi, Urdu and Arabic scripts comprise the carvings on the walls of the fort. Idols of Lord Hanuman and Lord Shankar are also seen in the fort. 10 cannons made of iron, copper and brass are housed inside the fort here.
The Mansar Finds Image source: chitrolekha
Archaeological excavations near the village of Mansar, on way to Ramtek, have brought to light an astonishing temple (Pravareśvara) and residential complex (Pravarapura) along with a collection of superb sculptures and other artifacts, which date to the first half of the 5th century CE when the Vākāţaka monarchs, Prabhāvatī Guptā and Pravarasena ruled the area. Altogether 5 sites have been excavated.
The Chandankheda Excavations image source: thebetterindia
The excavation on a mound near the periphery of Chandankheda was taken up by the Department of Ancient Indian History, Culture and Archaeology, Nagpur University, State Archaeological Department and Chandrapur Chapter of Indian National Trust for Art and Cultural Heritage, to trace evidence regarding ancient civilization.
Several antique articles including gold coins belonging to Nal dynasty, a worship plaque revered in Buddhism, a punch marked silver coin, copper coins, coins belonging to British era apart from remains of Roman pottery, household articles made in earthenware and stoneware, beads of various size and qualities, iron-age tools, terracotta have been found.
There are in all 22 layers.The bottommost layer represents early Stone Age followed by Late Stone Age, Iron Age, Satavahana and so on till the top layer that represents British era.
Gond Raja Tomb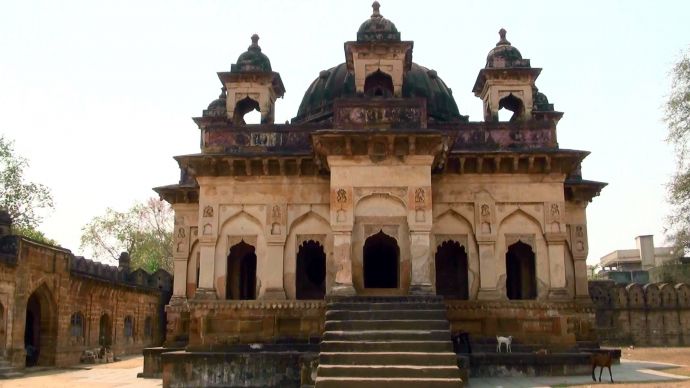 Image source: asinagpurcircle
The tomb of the Gond king Khandkia Ballal Shah, a contemporary of Akbar is located near Chandrapur, earlier known as Chanda. Raja Khandkia Ballal Shah fortified the town situated in between the Jharpat Nala and Erai rivers. The tombs of the later Gond kings and ruins of the Chanda city can still be found here.
Sitabuldi Fort
Image source: nagpurpulse
The Sitabuldi fort is located atop a hill and was built by a British officer in 1857. At present, the fort is home to the office of the territorial army and is open for a public visit during weekends. A trough has been created around the fort for its protection. Inside the fort is a memorial in dedication to all the soldiers who have died in the war between the Marathas and the British.
Balapur Fort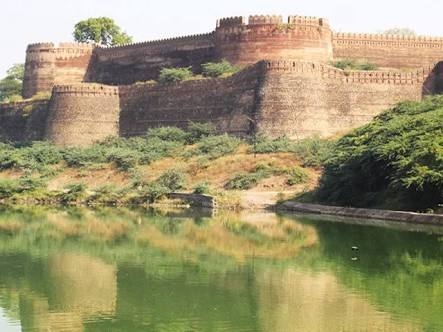 Image source: twitter
Situated in the Akola district, the Balapur fort is a Mughal fortress built in 1757. Aurangzeb's son, Mirza Azam Shah started the construction of the fort and it was completed by Ismaeel Khan, the Nawab of Elichpur. It is said that Mirza Azam Shah lived here and built another mud fort. One of the main attractions here is the chattri of Raja Man Singh I, a canopy constructed by Mirza Raja Jaisigh when he was appointed the governor of Dakkhan. The umbrella-shaped pavilion is 25 sq feet wide and 33 sq feet tall.
So, what are you waiting for? Pack up your backpacks and take a road trip to these unexplored places!
Cover image source: twitter, wikipedia
---
Like our facebook page to stay updated. You can also download Reacho app on Android or iOS to get interesting stories at your fingertips.