Reacho_Header
Recipient of six National Film Awards. Winner of five Filmfare Awards. Conferred with Padmashri. Ace director, producer, screenwriter and cinematographer. Well, that's auteur filmmaker Govind Nihalani for you.
Govind Nihalani will be interacting with Nagpur's very own Ajey Gampawar on Sunday, 10 December in an event organised by Orange City International Film Festival (OCIFF) at Kavi Kulguru Kalidas Auditorium, Persistent Systems from 6 pm onwards.
But before you plan to be a part of this candid interaction, here are some things you should know about the event.
About Govind Nihalani:
Source: Indian Express
For the last 37 years, Nihalani has delivered some of the most iconic films which have made him the pioneer of Indian parallel cinema.
Born in Karachi (now in Pakistan) in 1940, Nihalani and his family migrated to India after the partition. In 1962, he graduated in cinematography from Shree Jaya Chamrajendra Polytechnic, which is now known as Government Film and Television Institute. This started his stint as a cinematographer. He got his first big assignment when he joined world-renowned cinematographer V K Murthy as an assistant.
In a career spanning three and a half decades, Nihalani has delivered many critically and commercially acclaimed films.The most prominent ones being Aakrosh, starring Om Puri and Naseeruddin Shah and the recent Dev starring Amitabh Bachchan and Kareena Kapoor. Other films that put him in the top bracket of film directors include Ardh Satya, Party, Vijeta, Drohkaal, Hazaar Chaurasi Ki Maa and Thakshak.
He also directed Tamas, an iconic television film on the partition which fetched him the Nargis Dutt for Best Feature Film On National Integration. Broadcasted first on Doordarshan, Tamas was adapted from the novel by Bhisham Sahni. He has also worked with the legendary film maker Richard Attenborough as a cinematographer on the cult classic Gandhi.
His unconventional casting choices gave the Hindi film industry some of the most celebrated actors like Om Puri, Ashish Vidyarthi and Sadashiv Amrapurkar.
Nihalani has also won the Filmfare Critics Award For Best Movie for his 2004 directorial venture Dev, starring Amitabh Bachchan, Kareena Kapoor and Fardeen Khan. After Dev, he directed an animation film for kids in 2014.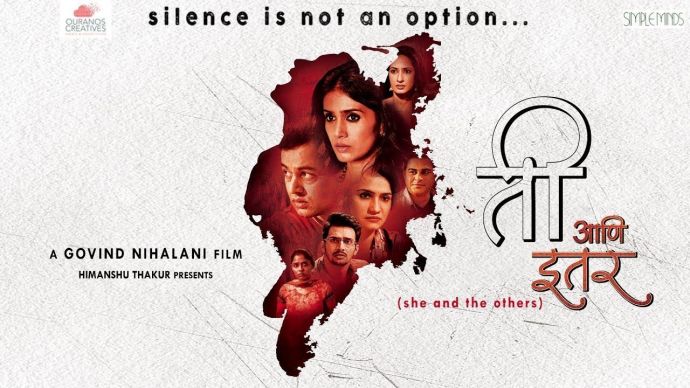 Source: Youtube
In 2017, Nihalani ventured into Marathi cinema and directed Ti Ani Itar starring Sonali Kulkarni & Subodh Bhave. The film was based on Manjula Padmanabhan's play 'Lights Out'. The film opened to great reviews from film critics and was lauded by fans as well.
In an exclusive tete-a-tete with Ajey Gampawar, Nihalani will talk about his experiences ranging from him working as a second with Richard Attenborough, Vijay Tendulkar, V K Murthy and the films that shaped India's parallel cinema.
The credit of bringing this amazing person to Nagpur goes to Ajey Gampawar, a well-known personality in Nagpur's culture scene. Ajey is also the brainchild behind this event. Having interviewed likes of Naseeruddin Shah, Swanand Kirkire, Amol Palekar, Girish Karnad, Sae Paranjpye and Varun Grover, Ajey is the one who has coordinated and hosted all these incredible personalities and has treated them with assal Nagpuri mehman nawazi!
About the event:
Date: Sunday, December 10, 2017
Time: 6 pm
Venue: Kavi Kulguru Kalidas Auditorium, Persistent Systems Ltd, I.T Park, Gayatri Nagar, Nagpur
The entry to the event is free. For entry passes contact: +91 9881943153
---
Like our facebook page to stay updated. You can also download Reacho app on Android or iOS to get interesting stories at your fingertips.