Reacho_Header
Let us continue our walk from where we left last week. A little ahead of the Gandhi gate, to the right lies the Rukmini temple complex.
Sometimes, certain places adapt themselves to the life around them. That's the vibe you get as you walk in through the arched doorway of the Rukmini temple complex. This medieval complex seems to have perfectly blended itself with the modern day life around it.
The temple complex has a Shiva and a Vishnu temple, unlike what the name suggests. Situated behind the Senior Bhonsle Wada, this temple complex served as the entrance to Rani Rukmini's palace. Building a Shaivaite and a Vaishnavaite temple at the entrance of every palace, was a Bhonsla tradition.
One of the things that make the Rukmini temple complex stand out, is its carvings. Both the Shiva and the Vishnu temples are examples of exquisite craftsmanship. Carved in Saoner sandstone, the temple walls depict various stories from the Hindu Mythology.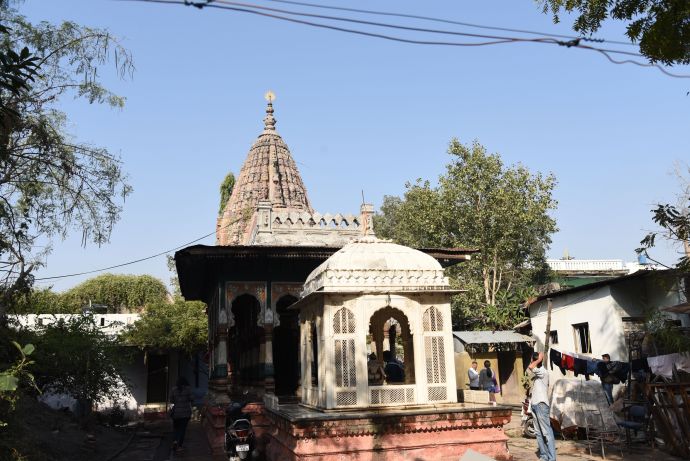 It is said that the carvings in this temple complex are inspired by the carved temples of Khajuraho. The entire structure of the temple rests on the beautifully sculpted Sundari wood pillars.
Despite being in a bustling and crowded area, the temple complex is very peaceful! You are transported to a completely different world as you walk through the arched gateway of the temple complex.
For someone with an artistic inclination, this place can be a great muse. If you ask me, this is the perfect place to get some peace and quiet, right in the middle of chaos.
Today, new structures have come up in the vicinity of the temple complex and families live in small rooms constructed around the temple. Looking at the families live their day to day life around a part of Nagpur's history makes you wonder how easily our past, present, and future can be connected. For the families, the medieval temples are like the family's older generation.
The temple complex doesn't have the air of a preserved monument, and that's what makes it real and rustic. Walking through the temple complex one feels as if the monument is aging gracefully.
---
Like our facebook page to stay updated. You can also download Reacho app on Android or iOS to get interesting stories at your fingertips.