Reacho_Header
City's Sudhanshu Bisen is amongst the latest entrant in the world of book publishing. His first novel, A Thousand Times Over, published by Delhi's Fingerprint Publishers, got released recently and has been receiving rave reviews. His Love quotes on Instagram are a hit and he has always stuck to a different style of writing.
In this exclusive interview with REACHO, Sudhanshu speaks about his first novel, his idea of love and his journey from a journalist to author.
Read on.
How did the idea of writing a novel seed in your mind?
It wasn't an instinctive decision. I always had this sort of story in mind that I wanted to share with the world. But I did not know how to go about it. I used to write blogs and of course, my profession also demanded me to write on a daily basis. I am an avid reader and somehow felt that I should give it a try. The first draft, obviously, was really shoddy. But then things started to look good eventually.
It is believed that most of the debut novels are based on an author's life. Is Thousand Times Over a result of the instances you had in your life?
Well, not really. If you will read the book, you would know it is completely fiction. However, while writing, you tend to include certain things and observations that you make in your day to day life. I observe a lot and that luckily helped me to sketch my characters.
Tell us about the whole experience of writing a novel?
It was beyond my imagination. I always say this that writing your first novel is life fathering your first baby. Initially, you feel you love it the most because you have brought it into the world, but it is the love that the baby gives you back that surpasses all the love. When I started, I just bled. The first draft was completed in just 18 days. Then editing and reediting happening. And, when everything starting coming together, it was a wonderful experience. I am lucky that I found my true calling.
How difficult was it to find a publisher? The rate of getting published by a traditional publisher is very low for a debutant author. How did you manage to get an elite publishing house?
It is quite difficult to rope in a traditional publishing house for a debutant author. The success rate is about one percent, or even less. I had confidence in my manuscript and was not ready to do self-publishing. Patience was the key once I submitted my manuscript to various publishing houses. Luckily, Fingerprint Publishers liked my work, believed in it and we were quick to sign the book contract.
How much do you believe in love? What does love mean to you?
I am a hopeless romantic. I believe in power of love. I believe there are many mediocre things in life and love should not be one of them. I feel love should be relentless, boundless and selfless.
What are the initial reactions about the novel?
The response has been really good. The reviews I have been getting via various blogs and other portals are really encouraging. Hope more and more people like it.
What are the future plans? Do you plan a sequel?
Not really. The story gives little scope to write a sequel. But I have a few things in the mind and will soon start penning down my second novel. The theme would be romance, of course.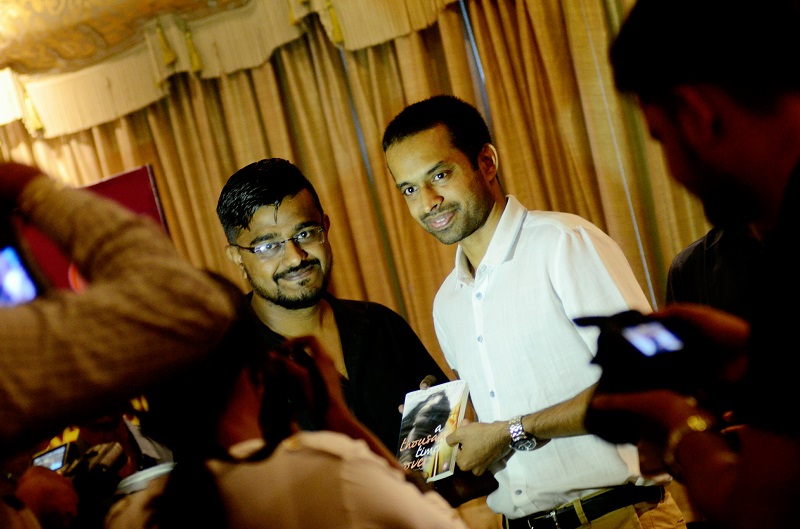 Sudhanshu presenting a copy of his book to Pullela Gopichand
You can buy the book online from Amazon.
---
Like our page on Facebook.
You can also download Reacho app on Android or iOS to get interesting stories at your fingertips.