Reacho_Header
India produces lakhs of engineers, every year and Nagpur plays a major role in it. There are about 25 engineering colleges in Nagpur which provide quality education( no pun, intended!) that enhance technical skills (Well, what's that?!) of every student and also have nearly 100 percent placement record (LMAO!).
Shitty assignments, rigorous semesters and jobs with a meagre salary, an engineering student from Nagpur has to go through a lot! Also, who can forget the painful tours of super awesome and ultra efficient RTMNU? Or those random comparisons with your nerdy cousin who is studying in IITs, COEP or VNIT, for that matter.
Source: MH-31
Reacho spoke to a bunch of engineering students to know about their struggles. Here is what they have to say:
1) Why am I in this college?
During the 12th boards, you dreamt of being an IITian. Hence, you cracked entrance exams of IIT Home, Yukti, Resonance, IIT Gurukul and other coaching classes. But eventually, something went wrong and you ended up in one of these amazing local engineering colleges. Rest, as they say is HISTORY. Moreover, frequent comparisons with Sharma ji ka IITian beta adds to the misery!
2) Pointless practicals and useless assignments!
The most laborious part of being an engineering student is to fill up those goddamn journals. Your phone gallery is full with pictures of assignments. Last minute completion, while taking a sip of tea in the canteen is mandatory! Also, who can forget the reluctant ass-licking that students from autonomous colleges have to do for getting those extra marks in exams. For others, they just don't give a 'Big F' to RTMNU!
*Kaisa bhi dedo, kitna bhi dedo..Bas pass karwado.*
3) The quest for midnight chai-sutta!
Source: Food By Mood
Night studies (everything apart from studies, actually!) come naturally to an engineering student. But, if you're in Nagpur, then you have to face another set of third world problems. There are hardly any places in Nagpur that can satisfy your midnight cravings. Engineering students and their odd hour cravings is why the folks at Mominpura, Amar Prem and Shankar Nagar tapri have employment.
Because tarri poha is best served with chai, sutta and also when it's late!
4) Cultural Fest: The Great Engineering Photo-Op Tamasha
The enthusiasm of an engineering student knows no bounds when there is a cultural fest in his/her college. It's a treat for desperate boys as they get to see girls, all dressed up (for the first time in an entire year). For a girl, this is a perfect opportunity to befriend a guy with DSLR camera(Poor soul!) so that he can click her pictures. And follows for rest of the year is a mind-numbing series of throwback pictures, all in the same attire.
5) The famine of Femininity in Mechanical is real!
Source: Pinterest
Talking about desperation, this is an additional struggle that mechanical students have to go through. An issue prevalent all across India, the girl-boy ratio in mechanical engineering is quite laughable and hence you could find them envying boys of other streams. If you're in the mechanical stream and confident enough that you'll get the girl. Think for once! Because you ain't no Chetan Bhagat to get the hottest chick in the college. You're in a looooooooooonnnng cue!
6) TECHFEST: Mumbai Darshan in disguise!
Source: The Better India
Let's admit that there are few hangout places in Nagpur and hence we are obsessed with Mumbai and Pune.The only time when every third person in Mumbai is an engineering student from Nagpur is during the TECHFEST, an IIT Powai event. But the intention is to do all things other than attending TECHFEST.
Parents are fooled to think that it's an educational tour and all you end up doing is just relax at Marine Drive. A win-win situation for both, I guess!
7) Screw you, RTMNU!
Most engineering students spent more time in the university than they do it in their college. Endless exams and the torturous wait for results, RTMNU just tests the patience! And if one has opted for the re-evaluation option, then that guy gets all our respect, bruh!
8) Zilpi- Poor man's Marine Drive!
Source: MH 31
Engineering students believe in unity because that's what helps the most during mass bunks. Pre-planned bunks are the best as they allow you to explore the city in a perfect manner. Impromptu movie plans at PVR, a road trip to Zilpi or just loitering around at Phutala, engineering students surely know how to have fun with limited resources.
9) There goes your Goa plan!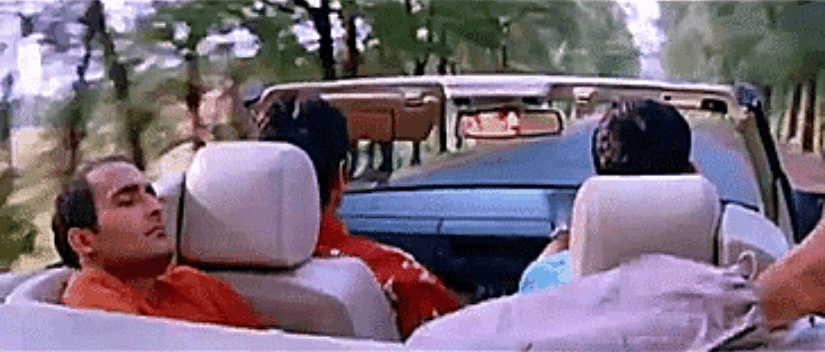 Dil Chahta Hai has ruined our generation! Cheap booze, hot firangs and vibrant scenes of Goa have been enticing every youngster, since decades.
Before every semester, every engineering student dreams of chilling at a Goa beach. Itineraries are planned, discussions are done and permissions are taken. But everything goes down the drain and you end up taking a road trip to Adasa or Ramtek, instead!
Source: Wikimapia
Well, as they say, you ain't no engineering student if you haven't added at least 10 failed Goa plans and 3 miserable startup ideas in your resume.
10) Placements..What's that?!
After those painful four years, an engineering student starts cribbing about how lame, Nagpur is. All he wants is a job in Infosys, TCS or Tech Mahindra. But sadly, engineering colleges in Nagpur don't have good placement percentage. Those placed, migrate to cities like Mumbai and Pune. The remaining lot also follows them so that they can study for various entrance exams. (Well, that's what they tell their parents!). GRE, MBA and GATE, FTW!
A newfound respect for every engineering student from Nagpur! Now stop reading this, kyunki agle mahine exam hai!

All gifs sourced from Giphy.com
Title image: GetMyUni, GetMyUni and LearnOf
---
Like our facebook page to stay updated. You can also download Reacho app on Android or iOS to get interesting stories at your fingertips.