Reacho_Header
"A happy band from far and near, Mount Carmel girls we gather here…"
Yes, yes we know these lines just take us back to school!
Conventees, grammar nazis, pro-NUN-ciation police, sisterhood, hymn book-holders, carol singers, we agree we are all of that… we are proud #Carmelites.
So, hop on as we take you back to every nook and corner of our school-
The place of every 'Monday morning assembly': Auditorium
Annual day functions, backstage fun, green-room gossip, Monday morning assemblies and our seating arrangement that differentiated middle school from high school students. This was the place where we were terrified to go the day we forgot our diary or ribbons, to escape the "hawkeye stare" of our teachers was a big deal.
Also read: Nagpur's Somalwar Ramdaspeth: 10 Things You'll Relate To If You're A Proud Student
The "ground" of memories: Playground, games room, A.V. Room
We were the clan that boasted of having a huge playground and our games room, which, along with sports amenities, treasured a lot of our memories.
#Adda #BunkAClass.
And do you remember taking three rounds of the ground as punishment?
Well, it is not a tunic it is a 'Pinafore' - our swagger uniform
We introduced swagger with our divided skirts on Saturdays and our P.T. uniform. Red, blue, green, yellow were not just houses but religions.
Ohh! The Cool Cabies-
The SPL Elections, the voting and the swearing-in ceremony was a real big deal. Well, the testimony to this is our campaign song:
"Teri kalaiya karari (ohho)
Tune khai murari ( ohho)".
The confusion of "Chhoti Mount" and "Badi Mount"-
Although our school had two categories, Primary School and High School, but our "auto-uncles" had a different nomenclature- "Choti Mount" and "Badi Mount" which they had a hard time managing.
We cannot thank these people enough- Teachers
They made us a Carmelite. She taught you the correct proNUNciation of 'restaurant' (res-straw) and 'jewellery' (julry), he is the ONLY reason we are fairly good at Maths (pun intended), she is the reason you always "lift your feet and walk."
source: giphy
The deadly combination was that of a Carmel Girl attending Athavle!
You know what happened there and you surely remember all the gossip that followed.
Well, we know this is not enough, hence here we list out traits that define us as CARMELITES: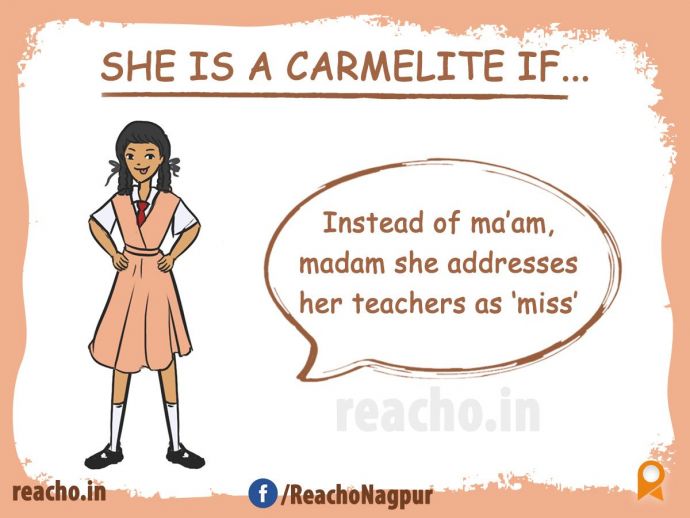 #Proud!
With inputs from Vinam Pachkhede.
---
Like our facebook page to stay updated. You can also download Reacho app on Android or iOS to get interesting stories at your fingertips.