Reacho_Header
Salsa is her passion, and nothing has stopped her from doing what she loves, not even cerebral palsy. For Shenaragh Nemani, being in a wheelchair is not an obstacle, she whirls around the dance floor in her gold salsa costume with partner Ken Hudson. She has won a spot in the World Latin Dance Cup and will be competing in December. She is the first dancer in a wheelchair to qualify in the limitless division. Shenaragh's story goes on to prove that if you have put your mind to something, no obstacle is big enough to defeat you.
Cerebral palsy refers to a group of neurological disorders that appear in infancy or early childhood and permanently affect body movement and muscle coordination. It is actually caused by brain damage. The brain damage is caused by brain injury or abnormal development of the brain that occurs while a child's brain is still developing — before birth, during birth, or immediately after birth. Individuals with Cerebral Palsy were most likely born with the condition, although some acquire it later.
An individual with cerebral palsy will likely show signs of physical impairment. However, the type of movement dysfunction, the location, and the number of limbs involved, as well as the extent of impairment, will vary from one individual to another. It can affect arms, legs, and even the face; it can affect one limb, several, or all.
Every case of cerebral palsy is unique to the individual. One person may have total paralysis and require constant care, while another with partial paralysis might have slight movement tremors but require little assistance. This is due in part by the type of injury and the timing of the injury to the developing brain.
With the exception of children born with a severe case, Cerebral Palsy is considered to be a non-life-threatening condition. Most children with Cerebral Palsy are expected to live well into adulthood.
In order to spread awareness about this rare disease, and to break common notions about the disorder, the Nagpur Pediatric Therapists' Association has organised a week-long awareness campaign in association with Zero Gravity.
Nagpur Pediatric Therapists Association (NPTA), is an organisation formed by all the pediatric physiotherapists and occupational therapists practicing in Nagpur. The association works on a common platform against childhood disorders and problems. Their main motto is to make the society aware about these disorders, the treatment available and pursue continuous research for the same.
Zero Gravity is a youth volunteer network connecting change-makers to opportunities on a single platform for social good based on innovation, ideation and committed work ethic. We find a factor which creates a gap in the community and we work hand-in-hand to bridge it. Zero Gravity is a parent which nurtures projects of a wide range. Zero Gravity has designed the campaign for NPTA's initiative.
A walkathon was also organised on National Cerebral Palsy Day, 3rd October.
Love, Understand, Accept, is the motto for this campaign. As a part of the campaign, the organisations are putting up success stories of people suffering from cerebral palsy.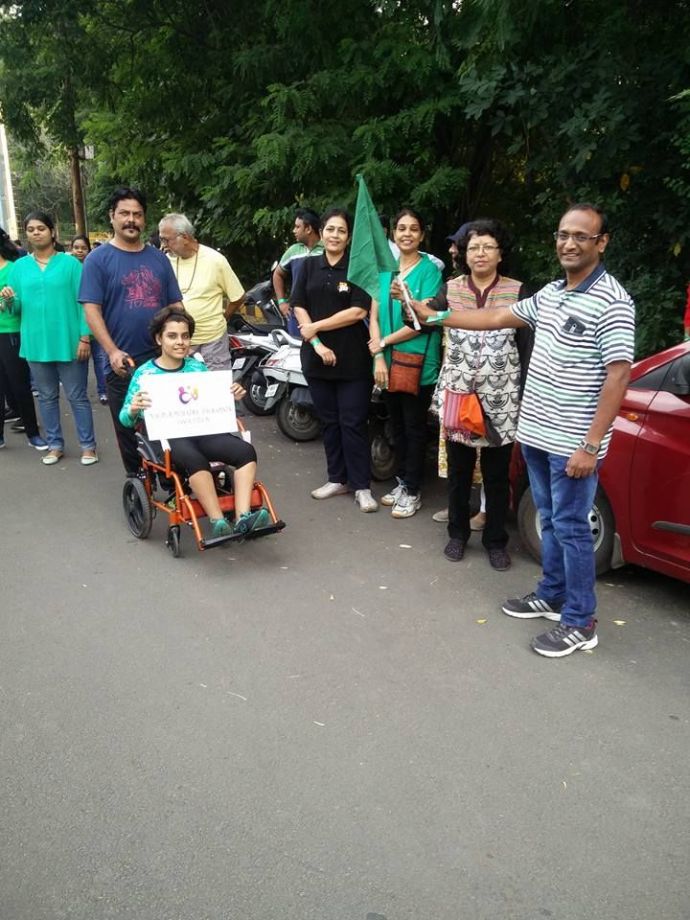 Inspiration is always around us, we just need to open our eyes and look around. Here are five such heartwarming and inspiring stories!
NUPUR PIDADI (25 YRS)
Just like her favorite colour yellow, the 25-year-old Nupur is a warm, happy and enthusiastic person, who loves to dress up and is really passionate about cooking. In spite of Nupur's high grasping power and a strong memory, she faced hurdles in early stages of education. She was admitted to a regular school (BKVV – till 8th) and completed her matriculation from Matru Seva Sangh.
Having completed her graduation in Arts from Open University she went on to pursue MS-CIT and Tally courses (Accounting). Nupur also completed a 2 month Skill Development Class from Noor Memorial Hospital.
Tragedy struck when Nupur's father, earlier a forest officer, suffered a sudden brain stroke and paralytic attack which rendered him speechless. With Nupur by her side, her mother - a true superwoman takes care of everything now. With cerebral palsy, life hasn't been a bed of roses for her, but her positivity and will power have helped her come a long way.
TUSHAR VANDANA (27 YRS)
"Tapu ke papa…!", yes, that would be an ice-breaker, if you want to start a conversation with the 27 year old, extremely health conscious Tushar. There's a little twist though, he is a health freak with a sweet tooth, but he restricts it to one sweet a day.
Apart from being a health freak, he is a very disciplined and punctual person too. If, you are thinking he must be a boring person, you are wrong! He loves to watch cricket and movies.
Tushar defeated all the factors that impeded him. He completed his SSC and HSC in the companionship of regular school going students without any complains. Tushar further completed his MS-CIT course and computers are his first love. He presently supervises Tushar Xerox and Daily Needs shop at Ram Nagar.
Tushar aims to buy a big new photocopy machine for the shop and his sincerity in work is helping his shop to thrive.
P.S - Did we mention? Mutton is his all time favorite food.
JAYESH AJAGIA (18 YRS)
The 18 year old Jayesh wanted to be a software engineer, but the colleges were uncooperative because of his medical condition. But giving up is something this 18 year old hasn't learnt. Jayesh went against all odds to stand out as a winner.
Instead of giving up, he decided to be flexible with his choices. He completed his schooling from R.S Mundle and currently is pursuing his B.Com degree (1stYear). Jayesh has a twin sister, Jagruti, who is studying to become an engineer. In his free time, Jayesh loves to listen to music and sometimes, even sings along.
SHREEWARDHAN KEKATPURE (25 YRS)
The phrase 'impossible is nothing', was probably made for the 25 year old Shreewardhan. After completing his schooling from a regular school (BKVV), he acquired a degree in B.A (Sanskrit) from Ferguson College, Pune University. Later, he achieved a postgraduate degree in Public Administration from Nagpur University. He plans to do a PhD.
Apart from having a command over Sanskrit, he also speaks fluent Malayalam. Being the social person that he is, he loves to interact with people and learn new languages, photography is another thing he is passionate about.
SANA NOEL MURRAY (12 YRS)
12-year-old Sana is a feminist in the making and she passionately propagates the slogan 'Save the Girl Child' everywhere. She has already acted as a lead in a short film of the same slogan.
A student of St.Ursula Girls' High School, Sana is nothing less than a child prodigy, not only does she study all by herself, she also helps her siblings out. She wants to become a neurosurgeon when she grows up. But studying isn't the only thing she likes, she absolutely adores dogs, and owns and handles a Rottweiler, 'Malhari'. This little one loves to click selfies and is an active Twitter user.
Reading about all these achievers, we'll realize that most of our problems are trivial and if we set our goal, no obstacle is big enough to stop us from achieving it.
In order to acknowledge, appreciate and applaud the strength and the never say die spirit of CP patients and their families, NPTA is organising a fancy dress show presented by children suffering from CP, along with live music by Darryl Grant, on Sunday 8th Oct. 5 pm at Traffic Park. How about spending your Sunday by supporting this amazing bunch? We are definitely going! Are you?
All images have been sourced from facebook.
---
Like our facebook page to stay updated. You can also download Reacho app on Android or iOS to get interesting stories at your fingertips.