Reacho_Header
We Nagpurkars always keep whining about how we don't have McDonald's in our city. Our situation has now become similar to that of Rakhi Gulzar waiting for her Karan Arjun. Yep, still being optimistic here, because Nagpurkar no!
But while we're waiting for McD to arrive, why not hog on to the burgers at some amazing places that we had long known and some we hadn't.
The following is a list of 40 eateries (Yes!) who serve some delicious and yummy burgers one sure can't afford to miss!
1) Lovely's Baker Street
Nothing can be said about this burger as the picture will do the talking. This place has been a numero-uno for their lip-smacking burgers, ever since it's in town!
Try their – The Big Mess Burger.
2) Plan B
Another newbie, this one moved from a place to try out, to a place to must go.
Try their – Mutton Bomber.
3) Crostino
Source: plus.google
Even though it's a tiny joint but the burgers have managed to get some good amount of attention.
Try their – Cheesearito Burger.
4) Pizzenia
Source: imgrum
Okay, we all love this one for it's loaded pizzas. But you're in for a treat when I say try their burgers as well.
Should order – Chicken Burger.
5) Panino The Sandwich World
When it's Panino, you can be rest assured of having a great sandwich. And also about their burgers and paninis.
Must try – Aloo Patty Burger.
6) The Secret Shop
Source: facebook
Before KFC could launch their "secret" burger, The Secret Shop had already started serving Nagpur it's Ron Swanson (which btw is better), a couple of years ago.
Also, try their – Double Cheese Sandwich Burger
7) Burger Singh
Source: Zomato
This exclusive fusion burger place is situated at a prime location and is sure to make you take a pit stop for a quick bite.
Order what – American Grilled Lamb Burger and Bunty Pappeh Da Aloo
8) Roast Café
A fresh interior, a really humble host and some mouth-watering chicken delicacies is exactly what Roast is about. While I could go on and on about other items on their menu, I'll just stick to burgers for now.
Try their – Chunky Chicken Burger
9) Cluckers Fried Chicken Restaurant
Source: justdial
If you love fried chicken as much as I do, you'll know why I choose Cluckers over KFC. The Chicken delight burger is simply made of fried chicken and mayo between the buns. But the taste will land you out of the world!
Try their – Chicken Delight and Chicken Royale.
10) D Reds
Source: justdial
Once known as Reds, the restaurant has now shifted behind VCA and is known as D-Reds. But despite that, the food is still the same and you can still munch on their delicious burgers.
Try out – Veg Takatak Burger and Chicken Sunny Side Burger
11) Haldiram's
Source: placeoforigin
Nagpur's very own brand is an all-time-favourite for many. Apart from sweets, people make a beeline at their restaurant too!
Go for – Vegetable Cheese Burger
12) Café Zinea
Quirky ambience, good music and appetizing food make Café Zinea a place you'd want to visit over and over again.
Must have – Maharaja Chicken Burger
13) Pablo, the Art Café' Lounge
This café-cum-lounge is already a hit amongst Nagpurkars. And even though their menu is limited, the food is nothing less than yummy!
You should try – Machine Gun Che Ride Suo Burger Non-Gun and Cow Boy Burger.
14) Three Beans
Source: facebook
This quaint little place is equipped with beautiful décor, good food, board games and books to keep you company.
Which burger to try – So you can make your own burger here. Choose a basic burger and top it with the choicest of veggies/meat and sauces.
15) Awww The Café Studio
Even though you will not find a burger on their menu, they do serve if you ask them to. However, the special order is only taken post 3 pm.
You should try – The standard vegetable burger and chicken burger.
16) Cobrew Café
Another book café in the city which has a great ambience and good food to make your experience nothing less than amazing!
Should have – Chicken Burger
17) Paa Roti Signature Bun
This pocket-friendly place assures you good food all along Head over for some delectable pizzas, fries and buns, of course. But for me, burger first!
Must try – Bun'd Burger
18) Kapa Zone Restaurant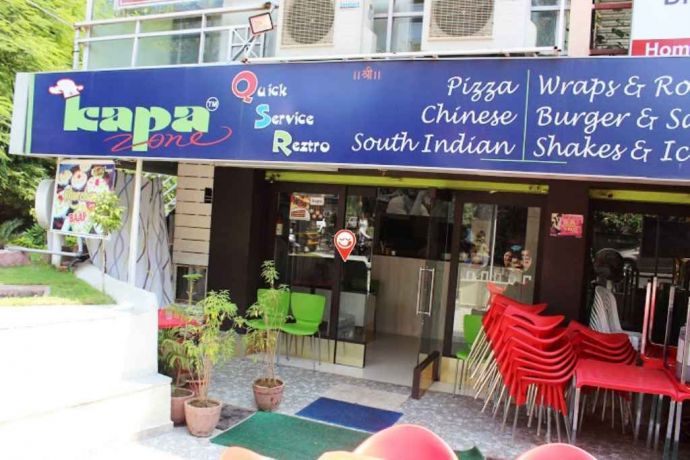 Source: burrp
This place surely serves some delicious South Indian food. But did you know, their burgers are also a thing to check out!
Do order – BBQ Burger and Sky Scraper Burger
19) Bouffage Café & Bistro
It's not every day that you'd find a chic place like this and that too in the parking space of a hospital. But come here and it'd surely raise your "spirits" with its dope-like cheese laden burger!
Must try – Smoked Chicken Burger
You Can Also Read:- '8 Low Budget Restaurants In Nagpur For A Date With Your Partner!'
20) Mocha
Source: indiamart
This multi-cuisine chain of a restaurant has always managed to keep us hooked to its ever-evolving menu and we're so not complaining!
You HAVE to try – Spicy Chipotle & Cheese Burger and Swiss Cheese Burger
21) Nineties Cafe
Much has been raved about this food joint's appetizing food. While some love their Maggi and popcorn chicken, I still haven't gotten over their burgers.
Must have – Herb & Chilly Burger and Shrimps Burger.
22) Villa 55
We love the ambience, love the vibes and we sure love the food.
Do try – Chunky Cheese Burger.
23) House of Caffeine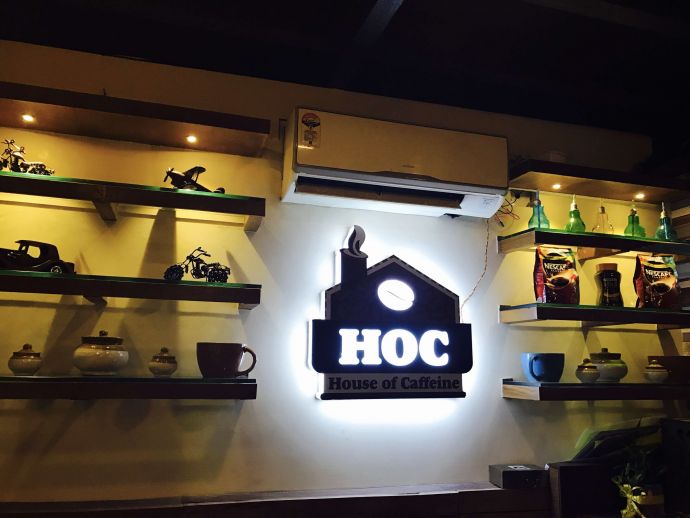 Source: zomato
Nescafe's second food joint has got us again! Delectable food and not much music will leave you having a great time with friends, folks or even just yourself.
Should have – Peri Peri Cheese Burger and Chicken BBQ Burger.
24) Funduz Café
Another tiny place but large at the menu will leave you wanting to order more of their yum food.
Try their – Chili Lava Burger and Pesto Chicken Burger.
25) Opulence Café Time
An underdog of a place, many miss it since its nestled in the Gokulpeth market. But not to miss are their burgers.
Must have – Four Cheese Burger
26) Cheesino
Source: zomato
This tiny outlet at two locations across the city serves delightful sandwiches and burgers.
Do try – Mexican Burger
27) Café Creamy Nuts
Located just below Café Durga, this petite place serves the pocket-friendly delicacies! Don't judge this book by its cover.
You should try – Herb Chilli Potato Burger.
28) Cane Can
Source: justdial
This delightful place who serves every possible cane fusion juice also dishes out tasty snacks to compliment the beverage. So, how about a pineapple cane with a tangy mayo burger?
Do try – Tangy Mayo Burger
29) The Food Story
This place is a go-to when you're super hungry and banking on combo offers to save your day!
Try their – 5" Cheese Burger.
30) Harry's
Source: waiteronwheels
The oldest and the best, as they say! Nagpurkars still swear by their pastries and burgers when it comes to house parties, kitty parties etc. or even for no occasion absolutely.
Do try – Chat Burger.
31) Pestro's Shack
Source: justdial
This place is a must for every burger lover! Check out their burger menu and you'll know why.
You HAVE to try – Paneer Fiery Burger and Crunchy Chicken Challenger Burger.
32) Afzal Bakery
This bakery is located in Friend's colony, near Vayusena Nagar and serves the best meat savouries ever! However, heart melts over their chicken burger.
Do try – Of course, the Chicken Burger.
33) Shabana Bakery
Source: airnook
Now, who doesn't know about this place! So, I'm going simply recommend going and tucking in some of the delicacies served. Starting with the burger, duh!
Should savor – Burger and Cutlets.
34) Jubilee Bakery

Bas naam hi kaafi hai. Along with some yummy sweet treats, the bakery also serves the best rolls and burgers in town.
Order of – Needless to say, burgers and the cheese corn roll.
35) Ruoofh 180
Source: tripadvisor
This la-di-dah of a place also serves some scrumptious burgers. What more can we ask for?!
Must order – Bean Burger and Traditional BLT.
36) KFC
Source: burgerlad
Yes! We'd literally prayed for this place to open and God did answer our prayers. So, burgers be the prasad, right? No? Okay Bye!
Should have – Potato Krisper Burger and Chicken Zinger Burger.
37) Dominos
Source: dominos
Okay okay, before you get arguing with me that it's a pizza place, just take a shot at ordering what I'm recommending, will ya?
Do try – Classic Non-Veg Burger Pizza
38) Fuel Station
Source: zomato
Burger lovers swear by this one! For those of you who haven't been here already, poda now!
Try their - Fuel Cheese Burger
39) Illusions
Source: nagpurtoday
Illusions has now become a perfect place for a great cuppa coffee and some delectable bites to go along with it! But when here the next time round, do give their version of the burger, which they call 'sliders' a try. You'll thank me!
Should try - Crispy Chicken Sliders and Veg Sliders.
40) Wat-A-Burger
Source: Zomato
The serene 'vatavaran' at Futula lake, a bunch of buddies and some cheese burgers to set things rolling – that's Wat-A-Burger for you ladies and gentlemen!
Do try – Mutton Double Cheese Burger and Veggie Cheese Shot Burger
41) The Egg Story
Source: shubhamingole
Situated at the Chaupati-like Chatori Street, The Egg Story is one of the best kiosks serving some lip-smack egg delicacies. No reason why you should just stop yourself at one burger!
Must try – Chicken Double Cheese Bun and Chicken Jawbreaker Burger
42) Yello
Source: Zomato
Yello is Nagpur's successful experiment with egg and how! An out-and-out restaurant for egg dishes which started with one outlet now has expanded two only to double the joy of us foodies.
Order what – Egg Burger, of course!
43) Food Links
Source: Food Links
This tiny food joint make some remarkable progress by dishing out some delectable finger food, quick bites at a dirt cheap prices. One can easily make Food Links a default option for those lazy day-ins when you want to binge off!
Do try – Cheesy Jalapeno Burger
44) Café 8
This plush café in Hingna is a regular stop for all the engineering and medico students who practically go out of the city to study. (Pun intended!) But what keeps their spirits up is Café 8's good food and some great freak shakes!
Try out – Crispy Paneer Burger and BBQ Chicken Burger
45) The Indiana Chief
Source: Zomato
A café inspired and themed on the red Indians is one of a kind in Nagpur. And you wouldn't go wrong if you expect some hatke food from a hatke café. So what are you waiting for, hop in and dig in!
Order what – Salsa Burger and Lamb Cheese Burger
46) Italy Via Punjab
Source: Zomato
This restro is fusion food taking to the peak! Base of Italian and tadka of sadda Punjabi food is what makes Italy via Punjab a favorite of many. While you're ordering off other items on their menu, do make it a point to order a burger as well!
Do try – Chicken Tikka Burger
P.S: The list is a compilation on the basis of author's opinion.
Title image source: zomato
---
Like our facebook page to stay updated. You can also download Reacho app on Android or iOS to get interesting stories at your fingertips.