Reacho_Header
Nagpur right now is going through a food revolution! No, we're not kidding. Suddenly, there is a huge number of restaurants and cafes that are opening up. Several franchises like Cafe Durga, Mainland China and Little Italy have ventured in the Orange City and Nagpurkars are loving every bit of it.
With pocket-friendly places like Nukkadwala and The Sidewalk Cafe to cool hangout places like Locals and Fuel Headquarters, Nagpur is the ultimate foodie's paradise for sure.
The newest bug to bit Nagpur is the recent trend of rooftop restaurants. Who wouldn't love a restaurant with great food, good ambience and a stunning view?!
We're not kidding! Nagpur surely has some great rooftop restaurants. While the city's skyline is not as great as compared to Pune, Mumbai or Bangalore, still it's not that bad either.
Reacho has compiled a list of the best rooftop restaurants (in an alphabetical order) in Nagpur:
1. Carnations
One of the first rooftop restaurants in the city, Carnations, over these years has gained customer loyalty, thanks to its food and location. The restaurant is great for fine dining and also has live music, every Saturday and Sunday. If you're here, then don't miss out on the amazing Chicken Lajawab and Carnation Rolls, at any cost.
Source: Rudrakshi Sahni
Where: 60, Mount Rd, Sadar, Nagpur, Maharashtra 440001
2. Chill N Grill
This is the newest rooftop restaurant of the town. Located right in the heart of the city, Chill N Grill is slowly and steadily getting popular with the Nagpur's food enthusiasts, thanks to the super awesome taste! The place offers happy hours from 12 pm to 3 pm and also has live music, every Friday.
Source: Facebook
Where: Poonam Arcade Residency Road Sadar, Nagpur 440001
3. Heaven's Hylife
If you want to witness the beauty of Nagpur's skyline, then there is no other place like Heaven's Hylife. The top floor of the popular Hotel Sunny International is now a rooftop restaurant. Great location, live music scene for at least three days a week, decent prices and good food are some of the reasons why you should pick it as your next dining spot.
Source: Rushabh Jain
Where: 6th floor, Hotel Sunny International, opposite Big Bazar, Dhantoli, Nagpur, Maharashtra 440012
4. House of Beers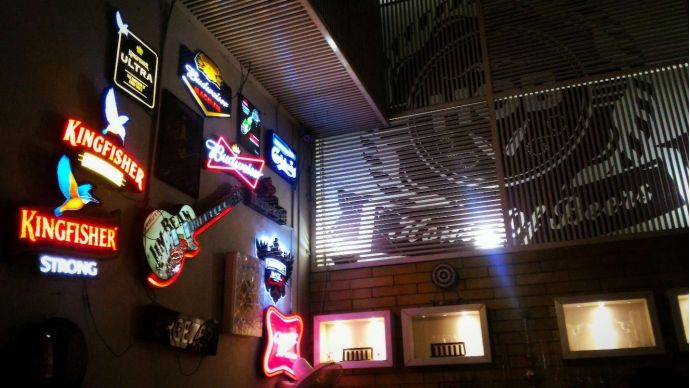 Source: Zomato
If you want to bond over booze with your friends or just dine with your partner, then you should head straightaway to the happening House of Beers. This popular hangout place is on the top of priority list of those who love alcohol. The live music on weekends is nothing but a cherry on the cake!
Where: Collectors Colony, Civil Lines, Nagpur, Maharashtra 440001
5. Patiala House
Seafood lovers, rejoice! There is a place in Nagpur which serves great seafood and guess what, it's a rooftop restaurant too. Patiala House also serves delicious Tandoor dishes in addition to other international cuisines. The rates are pretty decent and the view is the one to die for! Do try the classic prawn cocktail served here.
Source: Facebook
Where: Wardha Rd, Kannamwar Nagar, Somalwada, Nagpur, Maharashtra 440025
6. Restro Imperfecto Lago
If you're active in Nagpur's social circle, then you must have observed that everyone is talking about this new trendy place. Located perfectly near the Ambazari lake, the restaurant provides lakeside view and hence, this one gets our brownie points. Make sure you visit Restro Imperfecto Lago by 5-ish in the evening, so that you can enjoy the view during the sunset. The ambience here is pretty cool too!
Source: Facebook
Where: Plot No 5, Jaltarang Society, Hingana Road, Hingana T-Point, Nagpur, Maharashtra 440036
7. Ruoof 180
Ruoof 180 just cements the decade-long association that Tuli Group of Hotels and Resorts have with Nagpur. This rooftop restaurant is known for its royal ambience and is a paradise for every party lover. Well, if you don't believe us, then check out the amazing pictures.
Source: Flikr, Facebook
Where: 37, Central Bazar Road, Farm Land, Ramdaspeth, Nagpur, Maharashtra 440010
8. Shijim Kitchen and Bar
Source: Facebook
Great food. Superbly designed. And worth your hard earned money. Shijim Kitchen and Bar is the newest kid on the block and already looks promising.
Hurry up! Explore these amazing places, RIGHT NOW!
---
Like our facebook page to stay updated. You can also download Reacho app on Android or iOS to get interesting stories at your fingertips.