Reacho_Header
Every year on Vijayadashmi, the RSS chief or sarsanghachalak, gives a speech on the Kasturchand park in Nagpur to show the importance of this day for the people of India and also to give snippets about current situations in the country. This year's speech too, with issues like cow-slaughter being on the minds of many, was a very important one. We have taken out 10 points from the speech for you take notice of:
1. Current government policies have actions have build up confidence that was absent in the previously and therefore the nation, it appears, is moving forward.
2. Genuine Gau rakshaks good - they serve an important function of preserving Hindu tradition and help in implementation of government policies.
3. Some undesirable elements, who raking up the issue of cow-slaughter or spreading unfounded rumours about cow-slaughter, are busy serving their narrow personal or political ends.
Source: Twitter
4. Some people are misusing some incidents with the idea of maligning the government, administration and the benign forces like the RSS, which are capable of thwarting their evil designs, are dragging us into unnecessary controversies
5. It will certainly be a shame on the 21st century Bharat, if one's own innocent kin have to bear insults and physical onslaughts, because of one's wrath over a trivial issue or one's superiority complex, which also facilitate the divisive forces to take benefit out of it to tarnish Bharat's image and also to slow down the momentum of good social welfare activities being carried out all over.
6. In the cases of anti-social elements taking the center stage, politicians, while taking sides with an eye on political gains, along with ensuring that the moves they make do not lead to further widening the schism, should also see to it that their thoughts, words and deeds are helpful in lessening the feeling of hatred and ill-will and this is what society expects of them.
7. Some sections in the media, in the hope to enhance their commercial gains, are in the habit of sensationalizing the reporting of such issues by blowing them out of proportion, they have to resist this temptation.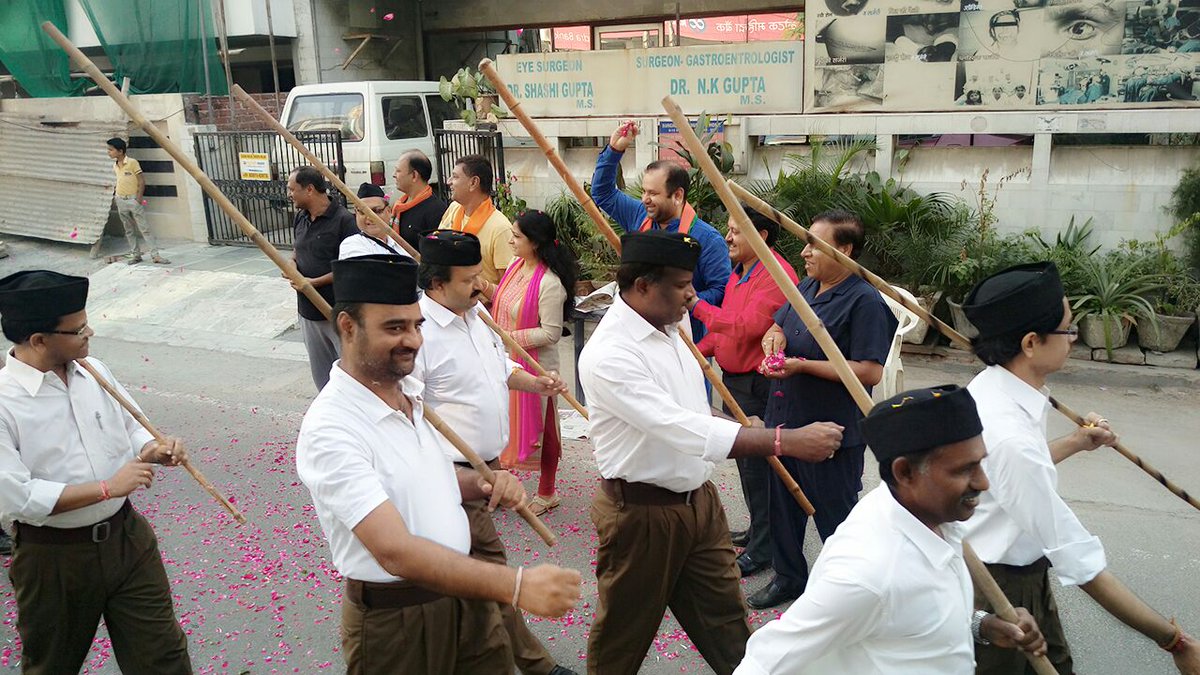 Source: Twitter
8. Emancipating ourselves from the wrongful influences caused by centuries-old slavery and self-forgetfulness, we have to formulate our national policies based on our own traditional genius
9. There should not be any compromise whatsoever on the principle that the whole of Kashmir, including Mirpur, Muzzafarabad, Gilgit and Baltistan, is an inseparable and integral part of Bharat. There is an urgent need to promote, consolidate and establish nationalistic activities and forces in these areas (Jammu and Kashmir).
10. During the partition, Hindus, who were domiciled in areas assigned to Pakistan, had migrated to Bharat and the then Jammu & Kashmir government had assured and asked them to settle in the state. They should be given all rights of citizenship in the state also. The discriminatory approach of the state administration towards Jammu and Ladakh also should be ended immediately
The terrorist attack on our Army camp at Uri has underscored the need for continuous preparedness on the part of our combat forces, and the level of perpetual coordination and cooperation needed among the Army, Defense Forces and Intelligence Agencies, as also the heavy price we have to pay even for a moment's distraction
Title image: Twitter
You can also download Reacho app on Android or iOS to get interesting stories at your fingertips.