Reacho_Header
Aleppo strikes have already created quite some unrest throughout the world, and its embers are now being thrown in bits and pieces with protests all over the world. It took a gory turn on Monday when Russia's ambassador to Ankara, Andrey Karlov, was shot in the back multiple times.
He was killed in a gun attack in the Turkish capital, Ankara, Russia's foreign ministry reported.
Andrey Karlov, 62, was about to deliver his speech at an embassy-sponsored photo exhibition when a man in a suit shot the diplomat in the back from close range, multiple times. Foreign Ministry spokeswoman Maria Zakharova announced his death in live telecast.
Karlov joined the diplomatic service in 1976. He served as Russia's ambassador to Pyongyang in 2001-2006 and later worked as the chief of the Foreign Ministry's consular department. He had served as the ambassador to Turkey since 2013.
The assailant who was also killed by the police forces after the attack was a 22-year-old off-duty police officer who worked in the Turkish capital.
Witnesses said that the gunman was so full of rage that he shot the minister multiple times even after he was dead.
Ankara Mayor Gokcek told reporters outside the exhibition centre that the "heinous" attack was attempt to disrupt the newly-re-established relations between Turkey and Russia.
Russia and Turkey have had sour realtions after a Russian warplane was shot down at the Syrian border in November 2015. However, Turkey later apologized and peace was restored. But this attack has shaken the countries once again.
Both the Presidents Vladimir Putin and Recep Tayyip Erdogan have consulted each other regarding this grave breach of security and nature of attack.
Russia and Turkey have co-sponsored the evacuation of civilians and rebels from Aleppo and are planning peace talks in Kazakhstan's capital, Astana.
Since it was press covered event, the gunmen and the shooting was caught on camera, where the assailant voiced his agony regarding the havoc in Aleppo after he shot the ambassador in the back.
The gunman: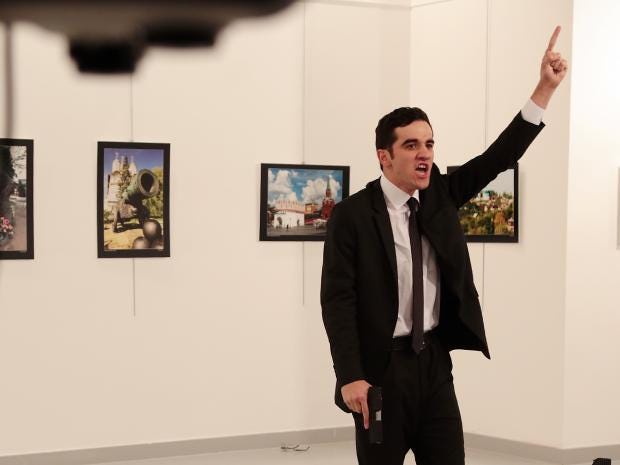 Source: independent
"Don't forget Aleppo, don't forget Syria" the attacker said in Turkish after gunning down the ambassador, as seen on a video shared by Turkish media from the scene.
"Whoever took part in this cruelty will pay the price, one by one ... Only death will take me from here," the man said, while carrying a handgun.
He then continued in Arabic, saying: "We are the descendants of those who supported the Prophet Muhammad, for jihad."
The attack came a day before a meeting of Russian, Turkish and Iranian foreign and defence ministers in Moscow to discuss Syria.
Information source: Al Jazeera
Title image: sputniknews
---
You can download Reacho app on Android or iOS to get interesting stories at your fingertips.