Reacho_Header
Football fans were in for a magical treat yesterday as three big matches were played across three different leagues in Europe which turned out to be highly entertaining and electrifying. To start off the proceedings, premier league had two of its big teams in the form of Manchester United and Arsenal lock horns against each other. The match was not only amongst the two teams, but also a face-off between the two managers namely Jose Mourinho for United and Arsene Wenger for Arsenal which made this fixture every bit as interesting. The match which was played at Old Trafford ended up in a 1-1 draw much to satisfaction of home team, given their recent form. Juan Mata for United and Olivier Giroud for Arsenal got their name on the scoresheet yesterday.
Source: mirror
The next big fixture was the highly anticipated Madrid derby played between Real Madrid and Atletico Madrid at the Vicente Calderon. This fixture was the ideal display of high physical and tactical battle between the two Spanish giants where Real Madrid managed to thrash Atletico with a convincing 3-0 victory. The icing on the cake for Real Madrid fans was Cristiano Ronaldo's hat-trick against one of the best defensive teams in the world in yesterday's match. Cristiano scored handsomely and silenced his critics with a great performance. Things got even better for Real as Barcelona's nil-nil draw in Camp Nou earlier saw the Los Meringues climb to the top of the league with 4 points clear off their bitter rivals and 9 points ahead of Atletico Madrid.
Source: sports.yahoo
Another high profile game had German giants Bayern Munich and Borussia Dortmund face off against each other in very difficult battle that saw Dortmund edge over Bayern with a narrow and much deserved 1-0 victory. Aubameyang scored a brilliant goal to halt Bayern's march to the top of the league.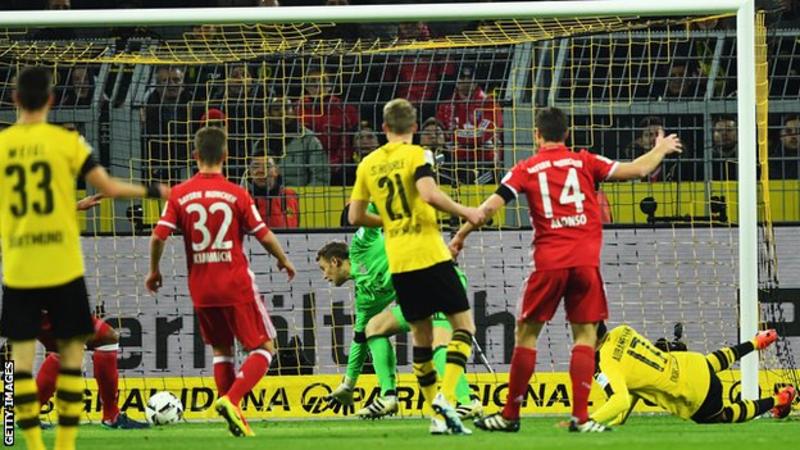 Source: bbc
Fans around the world made the most of their weekend with these highly entertaining and enthralling matches of high quality football. The international break was finally over and league football was back to its absolute best.
Title image: goal
You can also download Reacho app on Android or iOS to get interesting stories at your fingertips.