Reacho_Header
Strolling around in a-broad-day-light-forest amidst the lush green aura is surely a refreshing walk one would like to experience. But, how creepy do you think it would be to stroll around in the dead-silent gloomy night?
Sounds horrifying, right? But in reality, it's the most beautiful thing to experience, only if you are stepping into the Descanso Gardens of Los Angeles. Confused?
Source: welikela
Also called as the illuminated forest, every year during the holidays, the Descanso Gardens located in Los Angeles beautifully transform their ground into shimmering forest and the whole ambience is very delighted to watch. The much-awaited event started on Friday, Nov. 17 and many visitors have already experienced an exuberant time.
The final day of the event is announced to be Sunday, Jan. 7, 2018.
What heavenly feeling it must be, of walking under the "Starlight Garden"
Source: nbclosangeles
Lights rimmed around the tree, "Symphony Of Oaks"
Source: hindustantimes
A beautiful pattern is drawn from the game of light and shadow, "Celestial Shadows"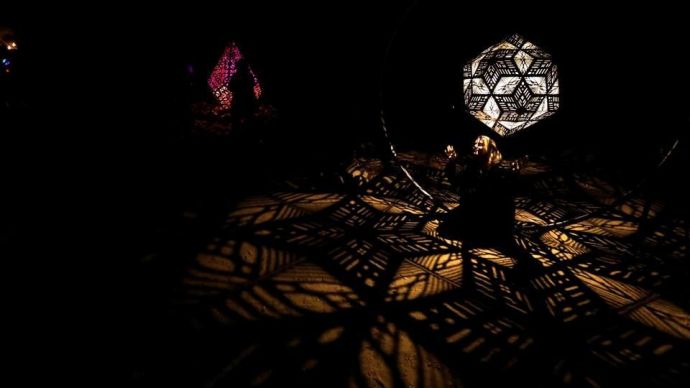 Source: hindustantimes
Bending and making its way through like a snake, "Luminous Lawn".
Source: dailybreeze
Floating in the air are the hues of orange and yellow, "Garden Of Good Fortune".
Source: hindustantimes
Bright colours throwing the beam of glitter towards you, "Ancient Forest"
Source: hindustantimes
As good as a real, as illuminated as a star, "Flower Power".
Source: hindustantimes
Mounted are the pillars that sparkle brightly with colours blended in rainbow light, "Rainbow Sycamores".
Source: hindustantimes
Enchanting, isn't it?
Information source: descansogardens, nbclosangeles, hindustantimes
Title image: sanmarinotribune
---
Like our facebook page to stay updated. You can also download Reacho app on Android or iOS to get interesting stories at your fingertips.