Reacho_Header
Cyberbullying turns out to be a nightmare for these Twitter trolls. Chennai Police's cyber crime branch has registered a case against unidentified people for trolling a female journalist on Twitter.
Director of The News Minute and journalist Dhanya Rajendran lodged a complaint with Chennai City Police Commissioner A K Viswanathan. Rajendran is seeking action against people who called themselves fans of Tamil actor Vijay for trolling her on Twitter.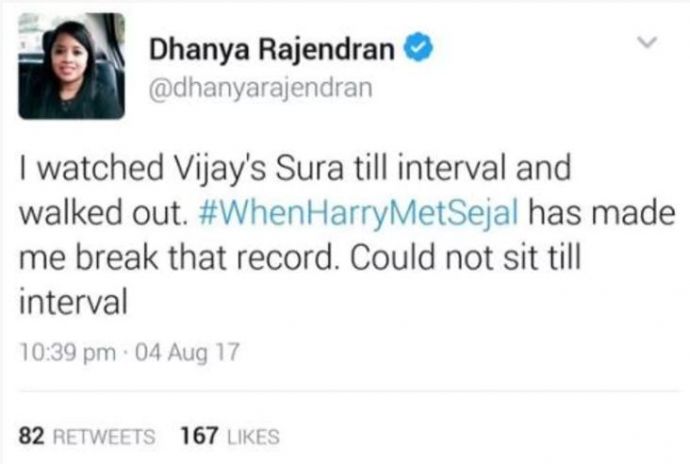 This all started when Rajendran tweeted about Shah Rukh Khan and Anushka Sharma starrer Jab Harry Met Sejal and called the film was even worse than Vijay's Sura movie.
The trolls even created a hashtag called #publicitybeepdhanya and posted over 76,000 tweets using abusive language against Dhanya Rajendran.
That's not all - Vijay's fans began mudslinging her, they dug up her old tweets too and accused her that she usually "attacked" Vijay.
Chennai Police registered a case under sections 354 (D), 506 (1), 507 and 509 of the IPC, Section 67 of the Information Technology Act, Section 4 of the Tamil Nadu Prohibition of Woman Harassment Act and Section 6 of the Indecent Representation of Women Act, 1986.
However, accused names are yet not suspects in the FIR, police are trying to identify the suspects.
Title Image: Twitter
---
Like our facebook page to stay updated. You can also download Reacho app on Android or iOS to get interesting stories at your fingertips.