Reacho_Header
As soon as a girl turns 23, the society gets concerned about her relationship status, and the only thing which you have to hear almost every day is, "Toh, beta settle kab ho rahe ho, now it's high time to get married".
Source: theprimetimenews
And suddenly your parents hop into your life to convince you to get married, no matter how successful you are in your career. All they need is a stamp of marriage on you.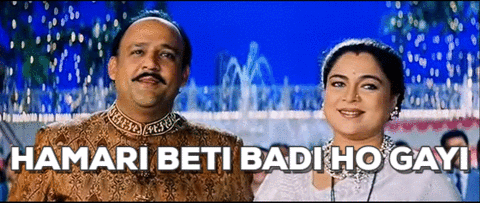 Source: thebetterindia
Your parents are concerned about your wedding and this whole process starts from making your bio-data and without your approval sending it to marriage bureaus.
Source: desinema
Not to forget, when the most lost relatives swiftly walk in, just to show their so called concern with a number of options with them.
Source: giphy
But what if, we tell you about parents who not only convinced their daughter for an arranged marriage but also find a perfect choice for the daughter after doing an actual research on it.
In a video by KARA Studios Presentation, the way her parents' choose to convince their daughter for marriage is just hilarious.
Source: giphy
After watching this video we bet you all want your parents to be like them!
---
Like our facebook page to stay updated. You can also download Reacho app on Android or iOS to get interesting stories at your fingertips.