Reacho_Header
They say love is in the air. All I can feel is the rising February heat (I guess you have to be in love to feel the love!) Come Valentine's week and every shop around you will stock up all sorts of chocolates and deck the place up in pink.
While people who are "deeply in love" find the pink hearts and chocolates and flowers extremely cute and romantic, the saner people find is nauseating!
Today is chocolate day and if you are in love, you are definitely thinking of gifting your other half, chocolates and flowers. I have two things to say to you 1. Oh please! 2. Thodi toh creativity dikhao, kuch toh naya karo!
I mean don't you get bored of the same chocolates.
There are two kinds of people who get excited about Chocolate Day, the "true lovers" and the ones who think gifting chocolates help you in finding the love of your life. Both kinds go around gifting (or distributing, for the second kind) chocolates.
Now, don't you think chocolates on Valentine's are a little overrated? If you, like me, think they are, there are chances that you'll like this article better than the others.
I say, why do the same-old-boring this Valentine's? Why not be a little (read really) adventurous this Chocolate Day?
We thought it would be a good idea to spice up this Chocolate Day with some really unusual chocolate combinations.
There's also a bonus, these combinations might just help you keep unwanted people at bay!
Here you go:
Peanut and Ketchup Chocolate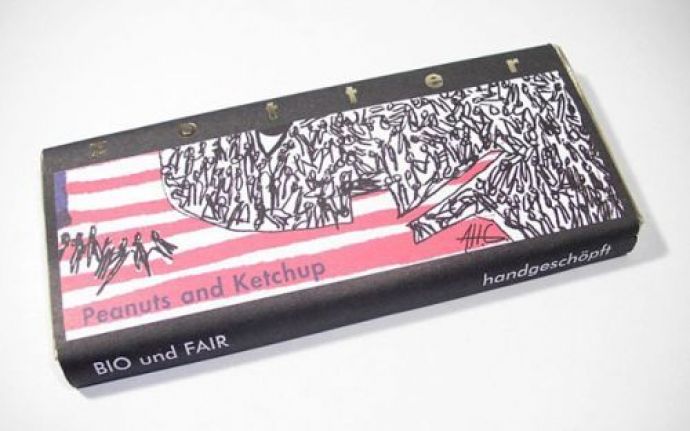 Source: indiatimes
This one kind of reminded of Rachel's Thanksgiving dessert!
Indian Curry Powder Chocolate
Source: indiatimes
For the truly patriotic love birds!
Ant Candy Chocolate
Source: indiatimes
Now ant chutney won't feel alone!
Camel Milk Chocolate
Source: indiatimes
At least it doesn't have ants!
Cucumber Vodka Mint Chocolate
Source: indiatimes
How's that for a boozy Valentine's?
Garlic and Thyme Chocolate
Source: deliciousmagazine
How about a kiss after this one?
Strawberry and Black Pepper Chocolate
Source: deliciousmagazine
Sugar and spice and maybe nice!
So, which one of these are you willing to try?
Cover image source: indiatimes
---
Like our facebook page to stay updated. You can also download Reacho app on Android or iOS to get interesting stories at your fingertips.