Reacho_Header
A poet, playwright and an actor – that's how William Shakespeare is described in the Wiki. But for many avid readers and less, he is no less than a legend. Some call him England's national poet, 'Bard of Avon' etc. And yet at the end of the day, he lived on to be the greatest dramatist ever, the world has seen.
In 1995, UNESCO declared this legendary poet's death anniversary to be celebrated as 'World Book Day'. As today marks the 402nd death anniversary, we walk you down the memory lane and bring forth 9 unknown facts about the prodigy.
Let's take a detour:
1) Shakespeare's father at one point of time had a job of getting paid for drinking beer
John Shakespeare, William's father, would meet the family's needs by doing odd jobs. In 1556, he took up a job of 'ale taster' wherein he had to inspect the malt liquor and bread. He eventually married to a high-born lady who brought him luck. John went on to be a mayor of Stratford, not long before he ran into debt and his downfall.
2) Got married to an older woman who was 3 months preggers
At the age of 18, William married Anne Hathaway, a farmer's daughter. They married hastily to save themselves from the wrath of the church as Anne was 3 months due. After 6 months of marriage, William became a father to baby girl Susanna. However, not much information is known about William and Anne's relationship.
3) His parents and offspring were illiterate
Although not certain, Mary and John Shakespeare had not quipped themselves with the reading and writing skills. Despite this, they could sign their names in English. William's wife and two children too were illiterate. Susanna, on the other hand, could sign her name too.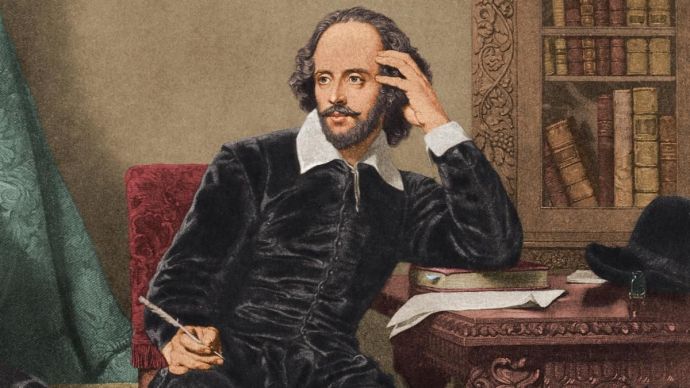 4) There ain't any information about him from years 1585 to 1592
In 1585, the records last found him baptizing his twin sons. And then in 1592, he was denounced as an 'upstart crow' by Robert Greene. But what happened of William in these seven years is not known. Theories say he worked as a schoolteacher, studied law, traveled across continental Europe or joined an acting troupe that passed through Stratford. In fact, he is even to have fled after he poached a deer, according to a 17th-century account.
5) Around a 100 day-to-day terms were coined by the legend through his work
Shakespeare can be absolutely credited for words like "fashionable" ("Troilus and Cressida"), "sanctimonious" ("Measure for Measure"), "eyeball" ("A Midsummer Night's Dream") and "lackluster" ("As You Like It"); and the expressions "foregone conclusion" ("Othello"), "in a pickle" ("The Tempest"), "wild goose chase" ("Romeo and Juliet") and "one fell swoop" ("Macbeth"). Need we say more?
6) Shakespeare's name can be pronounced in 80 different ways!
Many, including Shakespeare himself, never pronounced his name correctly. In fact, people of his generation could pronounce it in 80 different ways! "Shappere" to "Shaxberd" and abbreviations like "Willm Shakp," "Willm Shakspere" and "William Shakspeare" were commonly used. The name is drawn from old English which means to 'brandish a spear'.
Source: bustle
7) His epitaph has words that can 'curse' a violator
Shakespeare died on April 23, 161, aged 52. His epitaph reads: "Good friend, for Jesus' sake forbeare, / To dig the dust enclosed here. Blessed be the man that spares these stones, / And cursed be he that moves my bones." Now we know why the grave-robbers never dared turned a stone at William's grave. Rest in peace, in every sense!
8) He pretty much wore gold hoop earrings
As per the very many descriptions and paintings that are found of this legend, it was observed that the Bard wore gold hoop earrings. In fact, the Chandos portrait of William very evidently shows his wearing earrings. Back in those days, men who wore earrings were said to do so because of the bohemian fashion style.
9) 200 million starlings are in known to exist, thanks to his work again
Birds, swans, doves, sparrows, turkeys etc. found reference more than 600 in number, in William's plays and his works. An American 'bardolator', Eugene Schiffelin, decided to bring all the birds in Shakespeare's play to American. He then released 2 flocks of starlings in the skies of Central Park in NYC. 120 years later, they multiplied to staggering 200 million!
Source: emotionalintelligenceatwork
Information source: history
Title image source: biography
---
Like our facebook page to stay updated. You can also download Reacho app on Android or iOS to get interesting stories at your fingertips.