Reacho_Header
There is nothing that can beat a cup of tea or coffee for your lethargic morning ritual. Your day can't function well if you don't sip any of those. But, in this sweltering heat not many of us opt for a hot cup of tea. So here is a good news for such ardent tea lovers who can now readily swap their hot tea cup with cool bubble tea.

What is Bubble Tea?
It is a non-alcoholic, non-carbonated cold tea beverage which is made up of brewed tea, milk, ice, sweeteners like fruit syrup and tapioca. It has a surprising range of flavours such as the Tapioca Pearl Drink, Big Pearl, Boba Nai Chai, Milk Tea or the Bubble Drink. The reason for calling it bubbled tea lies in its formation. This tea isn't stirred like our regular one but in fact is vigorously shaked in order to form bubbles. Some also claim that the 'bubbles' refer to the round and jelly-like Tapioca pearls that are added to the bottom of the drink.
Here are some of its flavours:
1. Classic Bubble Tea
Source: food52
2. Green Apple Tea
Source: pinterest
3. Chocolate Bubble Tea
Source: pinterest
4. Mango Bubble Tea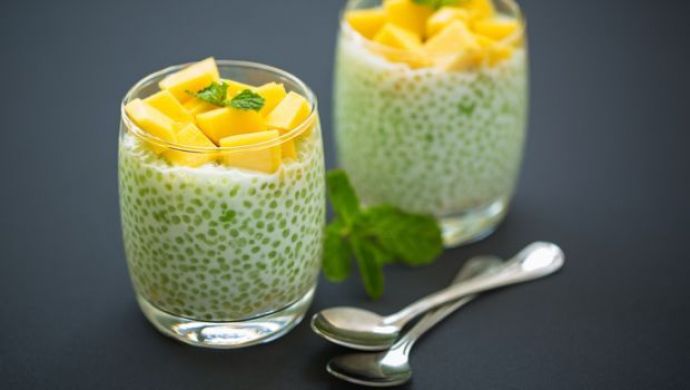 Source: ndtvimg
5. Strawberry Almond Milk Bubble Tea
Source: blogthings
6. Honeydew Bubble Tea
Source: munchinwithmunchkin
7. Taro Bubble Tea
Source: outerbloo.tumblr
Now that you know what 'bubble tea' is let's flip the pages of our food history and know more about it.

Bubble tea originated in Taiwan around the 1980s and in no time the drink became very popular and lot of competitors stood up with the same concept. In order to make a standout flavour, Liu Han Chie of Chun Shui Tang Tea House in Taichung experimented with cold milk, tea & tapioca by adding flavours to it. The tea then further gained its popularity and spread in many parts of East and Southeast Asia, the US, Australia, Europe and very recently South Africa.
Just to inform you, we get bubble tea in many places of India like Phoenix Market City - Bangalore, Phoenix Market City - Chennai, Cravingz - Pune & Ahmedabad, MGF Metropolis Mall - New Delhi and Viviana Mall - Mumbai
Information source: food.ndtv polkacafe thespruce
Title image: theodysseyonline
---
Like our facebook page to stay updated. You can also download Reacho app on Android or iOS to get interesting stories at your fingertips.