Reacho_Header
"I couldn't accurately explain what I was feeling with words." Curtis Wiklund is photographer and artist who has been drawing sketches about his life that revolves around his wife and two sons. His illustrations are very popular and give a sneak peek into his colourful life and has also drawn a large following on Facebook and Instagram.
But two weeks ago, he shared a powerful post which was different from his daily adventures. He shared a heart-wrenching sketch that was emotional and painful. He and his wife Jordin suffered a miscarriage.
At the beginning of the summer, the couple learned that they were pregnant with their third child. But at their first ultrasound on July 22, they received the saddening news.
"At the nine-week ultrasound, I got my phone out to video the ultrasound screen," Curtis told The Huffington Post. "The ultrasound technician asked if I could put the video away, so she could check to make sure everything was okay. That was the first time I had really considered that it might not be."
"When the ultrasound technician left, Jordin started crying. She knew," Curtis continued. When the doctor entered the room, she explained that the baby had stopped growing at six weeks, and there was no heartbeat.
"She was very kind about it," Curtis added. "Jordin tried to keep composure in the office, but was feeling urgently like we needed to leave. The doctor pointed us to a side exit door if we wanted to use it."
Curtis and Jordin had arrived at the appointment in separate cars, but they got in one vehicle together to hold each other till the pain passed. "We cried for about a half hour. We left other car in the parking lot and drove home."
Source: instagram
The couple had made lunch date plans and organized a party to announce their pregnancy to their families later that day, but had to cancel those plans due to this untimely news.
Curtis was so shaken by the loss that he said, "I felt like I needed to document it somehow. It was an instinct in reaction to grief I think. Some people need to go for a run or do something physical, some people need to write music or paint, I felt like I needed to document the experience as accurately as I could."
The artist is otherwise a happy soul and usually documents good moments, so he found it difficult to articulate this: "But after attempts to journal, I couldn't accurately explain what I was feeling with words," he explained.
So he drew the striking sketch, capturing their moment of grieving in the car. Once the drawing was done, he also felt the need to share his pain.
"Of course, it felt too vulnerable, too exposed, to share online, and I didn't think Jordin would want me sharing it," he said. "But it felt important for some reason. I hoped it would comfort others who are hurting."
His wife Jordin was supportive of his actions and said: "Miscarriage is a very lonely experience, and if Curt's sketch could help others feel the comfort I felt from friends knowing that I wasn't alone, then it was worth it to share it."
"After the miscarriage, one of the greatest gifts during that time were the friends who reached out to me who had miscarriages in the past, who could relate to what I was going through," she continued. "Because it's such a deep and personal loss, it's hard to imagine that anyone else can relate, that I wasn't the only one."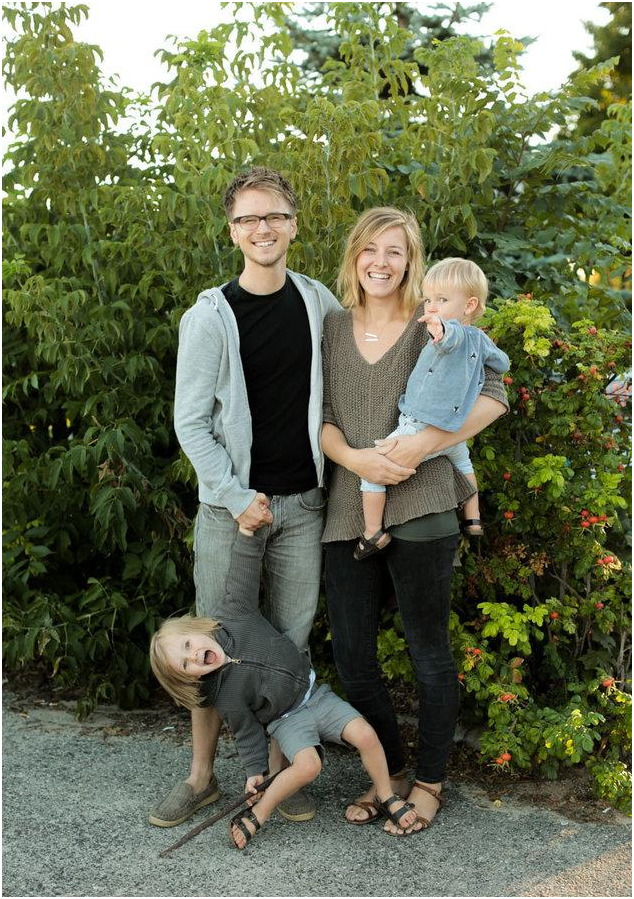 Curtis and his wife Jordin work as wedding photographers in Michigan, and are parents to three-year-old Casen and one-year-old Hayden.
The post was received with overwhelming response with thousands of people sharing their similar experiences online. The account was full of heartfelt responses from people worldwide.
Curtis agreed with his wife's rationale for sharing, and feels that they've been validated by the outpouring of comments on Instagram and Facebook.
"Some of them were so specific to this drawing, like 'that is exactly the car scene of me and my husband,'" he said. "We couldn't believe how many there were. Sharing our experiences is important. It is healing."
Our hearts go out to Curtis, Jordin and all the bereaved people worldwide.
Title image: curtiswiklundphoto
Like our Facebook page to read more!
You can also download Reacho app on Android or iOS to get interesting stories at your fingertips.