Reacho_Header
And it is upon us! Comic-book enthusiasts and comic-book movie lovers have been waiting with bated breath for this day. The first-ever live-action cinematic adaptation of the beloved band of misfits is here with Suicide Squad releasing on August 5. It comprises a crew of not-a-lovely-bunch of individuals out to fight a menace that's as much evil as it is sinister.
In short: This is Bad vs Evil!
For the purpose of making it simpler, we have compiled a nifty character guide for you to get acquainted with the Squad before you catch the movie. Feast your eyes!
1. Amanda Waller
Played By: Viola Davis
The puppet-master and creator of 'Task Force X', Waller works for the Government of the United States and her allegiance lies only with the system. Known as the toughest taskmaster out there, she will go to any length to get her job done. If it's by hook, fine! If by crook, better!
2. Floyd Lawton/Deadshot
Played By: Will Smith
The best marksman out there and the de facto leader of the bunch, he's the one who christens the unruly pack, 'The Suicide Squad'. Lawton is not a good man by any means, but he believes that his daughter is his sole reason to live and this is what grounds him into reality.
3. Dr. Harleen Quinzel/Harley Quinn
Played By: Margot Robbie
Harley Quinn has the unique distinction of being one character that never originally came from the comics. She first featured in 'Batman: The Animated Series' and was subsequently adopted in the comic-lore. Nevertheless, she is a nut case! Brainwashed by the big bad boy of DC Comics, The Joker himself, she is madly in love with the "Clown Prince of Crime" and will do anything to unite with her "Mr. J". As for her allegiance, is there any doubt left?
4. Col. Rick Flagg
Played By: Joel Kinnaman
The right-hand man of Amanda Waller, Flagg acts as the supervisor for the squad. He makes sure that the "bad-bunch" stays in their pants all the time. He has secrets and that's why he has to comply with Waller's orders but that doesn't stop him from expressing his pleasure over the prospect of shooting any one of the "freaks" that he has to work with.
5. Digger Harkness/Captain Boomerang
Played By: Jai Courtney
An assassin, whose preferred choice of weapon is, as you guessed it, a boomerang. He's a loud-mouth, a flirt, with a twisted sense of humour. In short, a total shitbag!
6. Chato Santana/El Diablo
Played By: Jay Hernandez
The man with the ability to conjure flames, he comes with the baggage of hurting the people he cared for and loved the most. He is the odd-man-out in the Squad because he doesn't particularly relish hurting others, let alone killing them and just wants to be left alone.
7. June Moone/Enchantress
Played By: Cara Delevingne
Moone, an archaeologist is in a relationship with Col. Rick Flagg. However, their relationship hits a little snag when during one of her expeditions, she stumbles upon a 3000 years-old spirit called "The Enchantress" which ultimately possesses her. Fascinating! A mild-spoiler: She's one of the evil, and not one of the bad guys in the movie. Get the hint? *Wink Wink*
8. Tatsu Yamashiro/Katana
Played By: Karen Fukuhara
She serves as Rick Flagg's bodyguard and friend who wields the mystical "Soultaker" blade, capable of trapping the souls of its victims. Completely normal!
9. Christopher Weiss/Slipknot
Played By: Adam Beach
Weiss works for a chemical company in the southern United States, where he develops his formula for the durable ropes he would later use as Slipknot. He is a master in the use of ropes and a trained assassin. He creates a chemical adhesive which he then applied to his ropes, making them nearly indestructible and uses the ropes to strangle, grapple, and hold down his opponents.
10. Waylon Jones/Killer Croc
Played By: Adewale Akinnuoye-Agbaje
A man with a rarest-of-the-rare deformity that makes his skin scaly and his features reptilian, Killer Croc takes to living in the sewers after being shunned by society. Let's say he has a good reason to kill anyone and everyone!
11. The Joker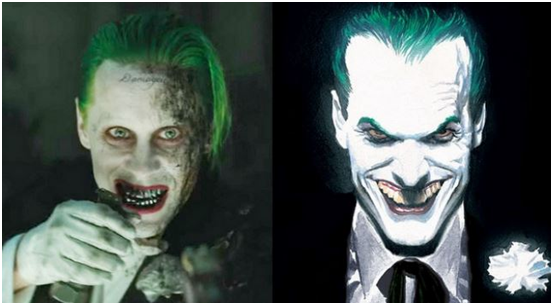 Played By: Jared Leto
And of course, the biggest bad boy that there is, The Joker makes an extended appearance in this iteration of the Squad. The boon and bane of Harley Quinn's life, a schemer, criminal mastermind and downright evil, Joker is the quintessential megalomaniac that is tailor-made for cinematic adaptations. Though not a part of the Squad, his actions will have a bearing on the group's functioning. The question on everyone's mind though is that how well Leto's take stack up against the late Heath Ledger's legendary portrayal. We'll know soon enough!
Suicide Squad hits theatres on August 5.
Title image: Screenrant
Download Reacho on Android or iOS to get more interesting stories at your fingertips.
---
Like our facebook page to stay updated. You can also download Reacho app on Android or iOS to get interesting stories at your fingertips.