Reacho_Header
Vikas Khanna has made India proud with his cooking skills. Although many of us know him only as a judge in Master Chef India, he is a lot more than just a chef. Vikas has the most adorable smile ever and his fans are no less than those of any Bollywood celebrity! His cookbooks are very popular with foodies. And the 44-year old New York - based chef and entrepreneur has a lot more going!
1. Karan Johar had offered Vikas role in one of his movies, which was rejected by Vikas, because he wished to focus on his first love - food!
Source: hungryforever
2. In 2011, People magazine included Khanna in the list of Sexiest Men Alive and also referred to him as "The Hottest Chef of America".
Source: freepressjournal
3. When Vikas appeared on Gordon Ramsay's show Kitchen Nightmares, he told in an interview that "The moment Ramsay met me, he said, you should be doing two things – work in Hollywood movies and be on TV."
Source: youtube
4. It was at his grandmother's side that Vikas began to learn the intricacies of Indian cuisine.
Source: thequint
5. Vikas was awarded a Michelin Star for his restaurant Junoon by Michelin Guide.
Source: thequint
6. Vikas started his own banquet and catering business, Lawrence Gardens, at the age of 17.
Source: youtube
7. Vikas has studied at the Culinary Institute of America, Cornell University, New York University and the prestigious Le Cordon Bleu, Paris.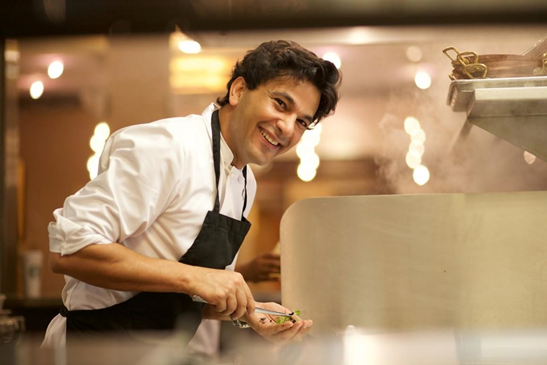 Source: t2online
8. Vikas is the founder of Cooking for Life and SAKIV Organizations which hosts gastronomic events around the world in support of different relief efforts and awareness about issues.
Source: india-forums
9. In 2011, Vikas was honored with the Rising Star Chef Award by Star Chefs for his role in shaping the future of American cuisine.
Source: hungryforever
10. In the year 2012, Vikas had hosted dinner for a fundraiser. The meal was organized at the White House, USA.
Source: emirates247
Title image: allbolly