Reacho_Header
With height of 23 inches and weight of 11 pounds, this Nagpur girl has made us proud on all platforms.
Jyoti Amge holds Guinness World Record for being world's smallest living woman!
Standing just 2 feet tall this girl might be small in stature but has achieved dreams sky high. Today on her birthday here we share 9 things you will be proud to read about her:
Jyoti's growth condition is called Achondroplasia which resulted in her stagnant growth just after a year she was born.
She has a rare bone degenerative condition about which her paents came to know when she turned 5.
This special girl owns everything special. During her school days Jyoti had her special small table and chair. Her clothes as well as jwellery are custom made and so are the utensils and bed.
Jyoti soared to popularity on her 18th birthday when she was declared as the smallest living woman by Guinness Book of Records. The earlier record was held by American Bridgette Jordan.
Jyoti was also seen in Bigg Boss and received love world wide.
She was also in the cast of American Horror Show:Frak Show where she played Ma Patite.
She co-hosted 'Lo Show Dei Record' in 2012 along with Teo Mammuccari.
She was also a part of the documentary "Body Shock:Two Foot High Teen" made by UK production on special people.
She also had plans to persue career in public service and hence joined politics with Raj Thackrey's MNS party.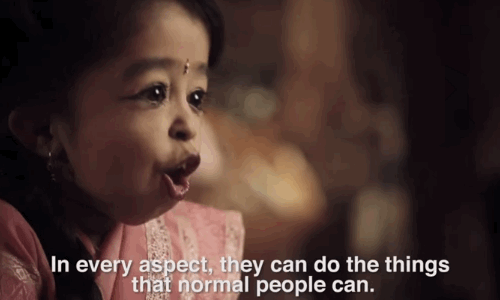 HAPPY BIRTHDAY JYOTI!
Title image: Independent
---
You can download Reacho app on Android or iOS to get interesting stories at your fingertips. If you wish to contribute, mail us at reach@reacho.in