Reacho_Header
Reaching the roads of finale, this week of Bigg Boss was as emotional as melodramatic! With participants meeting their family members, family members giving advices, fights and tears and a week that will apparently change the history of the show, here is everything that made news:
The Ugly fight between Priyanka and Lopa:
Abuses and fights are no unique TRP garning acts for BB contestants, however this week took an ugly turn where in Priyanka's abusive words shook the dam of otherwise mature and patient Lopa! BB later made both of them understand their wrong doings. Their tears for sure gave the viewers an emotion filled ride.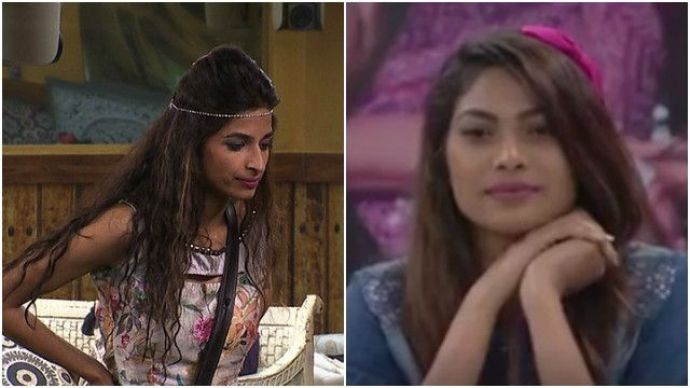 Source: dnaindia
Innocence did Conquer all:
Priyanka was given a chance to meet her kids and they made everyone fans of their innocence as they entered the house. So much so that even after a nasty verbal exchange Lopa was seen playing with priyanka's kids. Indeed kindness and humanity are also among the emo bags of these contestants.
Source: indianexpress
Mona's boyfriend took the ride to another level:
Mona's boyfriend Vikrant finally enterd the house to meet her. The 10 Minutes which were apparently for these to catch up was used by Vikrant to fire Manu left-right and centre. He expressed his anger as well as concern and on an emotionally charged note took off.
Source: dnaindia
Family Meets continued:
Also seen meeting were Rohan's brother, Gaurav's Brother, Nitibha's mother and Manveer's father. The contestants stood for each other during this roller-coaster ride.
Priyanka changes the history of the show:
Priyanka Jagga with her aggresive attitude and adamancy this time got it all wrong. She will be seen arguing with Salman today. Salman on the other hand became so angry that he evicted Priyanka Jagga out of the BB house. He also declared that he would not work with the channel if she ever works with them again.
Source: indianexpress
Title image: guiltybytes
---
You can also download Reacho app on Android or iOS to get interesting stories at your fingertips.