Reacho_Header
However dreamy Fendi bags and Prada outfits seemed , they never made her completely happy. So, she decided to give her journey a major twist!
Nisha Kapashi, 30, a New York-born former fashionista, took part in Diksha, the sacred ceremony of renouncing one's materialistic life, in order to become a Jain nun.
This happy soul thought of herself as no less than a bride- marrying the rich traditions and philosophies. "Imagine an Indian wedding, well, it was just like that,'' the ex-quintessential Manhattanite told The New York Post.
"I was getting married to the Jain nun philosophy, and I was treated like a bride," she said. "I had my last bath ever, and I had my hair shaved off as a symbol of renouncing my old life. People believe we have our hair plucked out, but (it's) only a few strands. The rest is shaved."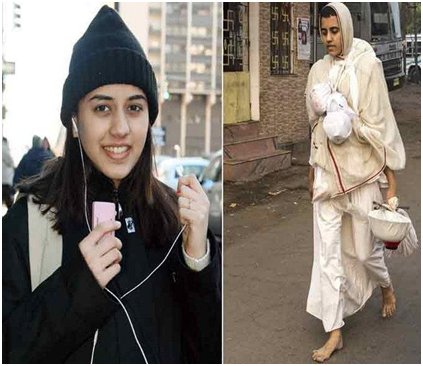 Source: bhaskar
Poughkeepsie-born Nisha completed her education from Fashion Institute of Technology and landed an internship in Kate Spade and then a lucrative job at J Crew.
But no material pleasures could fill the emptiness that was growing inside her, Kapashi said.
"I couldn't understand why I wasn't the happiest person in the world, I was trying to be fashionable and successful, but the more I did so, the emptier I felt. Slowly, I began to change. I stopped caring so much about how I looked. I began to wear simple outfits . . . and no makeup. The more changes I made, the better I was feeling.''
Source: nypost
Kapashi quit her job and began meeting with Jain study groups in Queens once a week in 2011. She eventually moved to India and formally studied to become a nun.
"I have no money, not even a bank account.
"I have committed to a life of celibacy and simplicity for the rest of my life," she said.
"This is my life now — and it's the ultimate happiness.''
Kudos to you Nisha!
Information Source: nypost
Title image: 24h
Like our Facebook page to read more!
You can also download Reacho app on Android or iOS to get interesting stories at your fingertips.