Reacho_Header
On the occasion of Navratri where you see the streets illuminated and embellished with beautiful lanterns, the residents of Gujarat stumbled upon a not-so-decorated but still alluring poster.
The poster (banner) was of Manforce condom where Sunny Leone is seen placed on the right side of the advertisement saying- Iss Navratri, Khelo Magar Pyaar Se!
Source: newsheads
Well, the above statement stirred the controversy when the Traders' body CAIT (Confederation of All India Traders) asked the center to ban an outdoor advertisement in Gujarat.
One simple reason behind taking this ad off was- it showcased derogatory statement which can encourage youth to use condoms in the name of Navratri festival.
To make this issue even more politically controversial, a letter has been written to the Union Consumer Affairs Minister Ram Vilas Paswan by CAIT.
In the letter, CAIT National Secretary Praveen Khandelwal wrote
The hoarding shows Leone on one side staring at text written in Gujarati, "Ya Navratriyon Ramo Parantu Prem Thi" -- which translates into play in Navratri but with love, between two dandiya sticks and above the Manforce logo.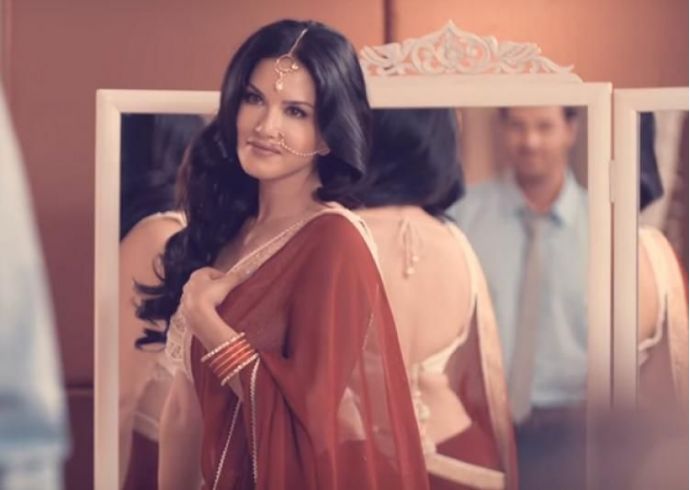 Source: indiatvnews
Khandelwal said,
Their large banners in cities across Gujarat are shouting out to encourage youths to use Manforce condoms in the name of Navratri festival.
Terming the advertisement as "derogatory", he further said
This is a clearly irresponsible and immature attempt to boost sales by putting our cultural value system at stake.
It seems that Khandelwal alone has got very much affected by the ad because he then target sunny saying,
The most irresponsible act of its Brand Ambassador Sunny Leone is an ample testimony of the fact that in the lust of earning huge money, these brand ambassadors can go to any level irrespective of the pious and religious occasion of Navratri even.
Meanwhile, the CIAT is still waiting for The Mankind Pharma's response. They say Sunny Leone has also not responded to the protests.
Information source: hindustantimes
Title image: newsheads
---
Like our facebook page to stay updated. You can also download Reacho app on Android or iOS to get interesting stories at your fingertips.