Reacho_Header
Street artists have a lot to say about President Donald Trump, but of course, not much of it is in a flattering way. Soon, after he launched his bid for the presidency in June 2015, works denigrating the president started appearing on the walls around the world.
Murals, graffitis, posters and stencils started appearing all over the world that made fun of him.
Below is a roundup of some of the most notable pieces of public art ridiculing Donald Trump:
Trump As Adolf Hitler By Street Artist Pegasus In Bristol, England
'Don't Feed The Trolls' By Artist Tabby On The Walls Of Vienna, Austria
'Love Trumps All' By Street Artist Tabby In Vienna, Austria
'Dump Trump' By New York Artist Hansky
'The Grabber' By Herr Nelsson In Stockholm, Sweden
Trump-Inspired Graffiti In Hartford Connecticut
'Donald Mctrump' By Artist Ivan Orama In London, England
'Make Everything Great Again' By Mindaugas Bonanu On The Walls Of Vilnius, Lithuania
'The Drumpf' By Street Artist El Peezo In Phoenix, Arizona
'We Shall Overcomb' Again In London, England
'Humpty Trumpty' By Artist Ron English
'Egg Donald Trump' By Street Artist Furia On The Walls Of London
'Freedumb' Found On The Walls Of Melbourne, Australia
'Grab Them' Painted On The Walls Of Los Angeles
'Bitchy Rich Salute' By Street Artist ABCNT Again In Los Angeles
A Postcard To Trump By French Artist Ador and Canadian Artist Ensu In Nantes, France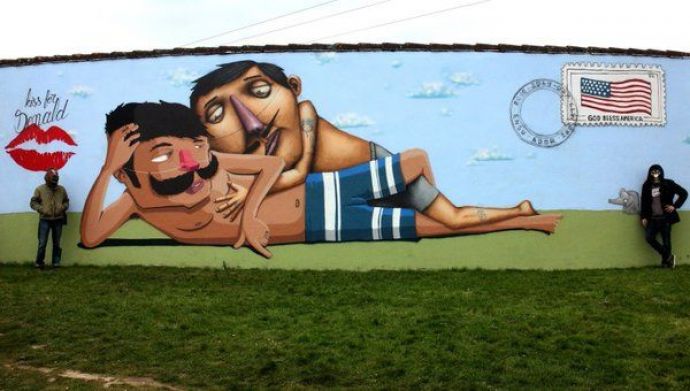 All Images sourced from huffingtonpost
Title image: twitter, jacobocardona , boingboing
---
Like our facebook page to stay updated. You can also download Reacho app on Android or iOS to get interesting stories at your fingertips.