Reacho_Header
Being a social animal as humans tend to be, and with this evolving era of 'smart' and social world, it is quite difficult to stand tall and elude the fall. If you are reading this, I am sure you are more of a social animal than that person who isn't reading this. And while we're at it, we will enlist the do's and don'ts of the Social World. Let's dive in!
1. Give your posts some air to breathe
Source: Waitbutwhy
Don't overgram. Give people space. Nobody likes back to-back to –back posts of the same person in their feed. Ain't nobody got time for that!
2. One hashtag is good, but too many are bad
Source: andreapackdesigns
Don't use many hashtags and mostly, avoid using those hashtags that don't relate to your posts.
3. Mandatory long captions and posts for your bestfriend/lover
Source: quickmeme
Birthdays are special as long as you publicly display your affection towards your best friend/lover with long captions and cute pictures and redundant emoticons. This is a rule and you can't escape this rule.
4. Political opinions on Social Media is a big NO
Source: memegenerator
Sharing your strong and stubborn political opinion on Social Media is a big NO. If you have built a strong negative opinion, instead of posting it on Facebook or tweeting it, go outside and do something about it..
5. Too many filters on a single picture is unacceptable
Source: pinterest
Adding too many Instagram filters on the same picture makes the quality bad as well as makes it totally unacceptable to accept.
6. Do not post pictures of everything you eat
Source: imgfave
These days instead of praying to god for the good food and good health before eating is replaced by people's camera screens clicking pictures of the food and then people posting it on social media trying to be in fad. Not. So. Cool.
7. Do not ask people to like/follow/share
Source: slideshare
Hashtags like #Like4like and #Follow4follow is as bad as if someone were crying for likes and followers. Asking people to follow you or like your posts is just as offending as their denial.
8. Being cheesy on Social Media is not healthy
Source: quickmeme
Be it any social media, it is undesirable and offensive for a person to be cheesy. It is advisable to keep all your records clean by not acting like a cheesy and creepy person. Ever.
9. Posting drunk updates are overrated
Source: memecrunch
Why do something at night that will be embarrassing in the morning? Posting drunk pictures and videos and waking up to regret all your life the next morning is as bad as it can get. And what if your grandmother is keeping a good watch on you? Think twice, my friend. Even when you're drunk, think twice.
10. Socially displaying your affection for your partner is a no-no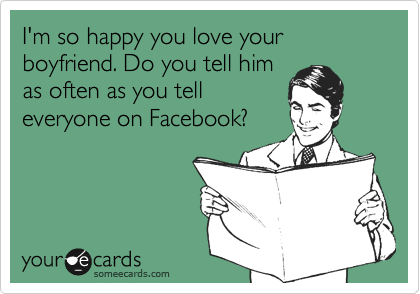 Source: Pinterest
If you're happy and want to share your happiness, do it with your partner and not with a 100 followers peeping into your happiness and not even caring to double-tap or like your happiness. Makes sense?
11. Mandatory thank-you status after your birthday
Source: smosh
Even someone you have never met and who took the trouble of posting a mere 'hbd' to your wall (when facebook asked him to) expects you to thank him. So it's mandatory to update a thank you note to everyone and it should include words like, 'nice, awesome, best'.
Yeah, it would pretty much do.
12. Posting the same post on every social media possible is unbearable
Source: mimosolutions
So you sent me a snap today? Saw your instagram had the same picture with filters. Saw your facebook had the same filtered picture with a caption and wait, did you miss your twitter by any chance?
Why would you think people would want to see the same photo and same post everywhere again and again?
Title image: Amsterdamprinting
Download Reacho on Android or iOS to get more interesting stories at your fingertips.
---
Like our facebook page to stay updated. You can also download Reacho app on Android or iOS to get interesting stories at your fingertips.