Reacho_Header
Nelson Rolihlahla Mandela, revered as "Madiba" in South Africa and around the world, was born today in 1918. The face of the anti-apartheid struggle in his country, the former South African President and Nobel laureate became an icon worldwide for his insistence on the equality of all people, regardless of race and nationality. His eventful life has been extensively documented, including his incarceration on Robben Island, his public engagements with both popular as well as controversial figures, and his guiding philosophy. We bring to you some interesting tidbits from Madiba's very fascinating 95 years:
1. Madiba shirts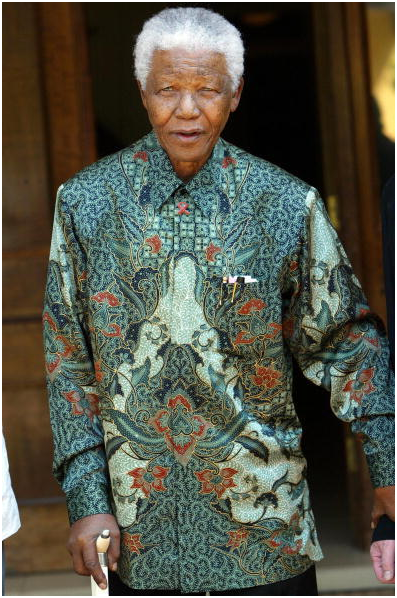 Source: hufp
Nelson Mandela popularised the Indonesian shirt design, which came to be known by his name. He favoured these Batik-printed, vibrant shirts over any other attire even on many formal occasions.
2. Backing the Springboks
Source: abc
In a bid to prevent brain drain and exodus of white Afrikaners after abolishing apartheid, Mandela exhorted the black majority to support the widely-hated all-white South African rugby union team, the Springboks, in the 1995 Rugby World Cup. It was intended as a show of solidarity in the event that South Africa hosted, and an attempt to bring about reconciliation between the two races. The Springboks went on to win the tournament againt New Zealand. This instance was the premise for the 2009 film, Invictus.
3. The Gandhi connection
Source: pint
It is widely known that Mandela was greatly influenced by Mahatma Gandhi and his non-violent philosophy against the oppressors. But he also started an armed wing in the African National Congress, the Umkhonto we Sizwe, to retaliate against the use of force by the then ruling authority.
4. Marxist and Socialist influences
Source: theroot
Mandela was also influenced by Marxism and Jawaharlal Nehru's socialist ideals. He envisioned a classless society much like traditional African society, where human existence would be communal, codependent and equal.
5. Bharat Ratna
Source: livemin
Nelson Mandela was awarded the Bharat Ratna, India's highest civilian honour, in 1990. He is only the second non-Indian who has been given this award, the other being Khan Abdul Gaffar Khan.
6. UN's Mandela Day
Source:sapeople
His birthday, July 18 has been proclaimed by the United Nations as Mandela Day. To commemorate his 67 years of fighting against apartheid, it calls on individuals to spend 67 minutes doing something for others, on that day.
7. Freedom Trophy
Source: bcci
The Freedom Trophy, awarded to the winner of the test cricket series between India and South Africa, pays tribute to Mahatma Gandhi and Nelson Mandela.
Know more inspiring anecdotes and events from the life of this legend? Share with us in the Comments below!
Title image: bizinsider
Download Reacho on Android or iOS to get more interesting stories at your fingertips.
---
Like our facebook page to stay updated. You can also download Reacho app on Android or iOS to get interesting stories at your fingertips.