Reacho_Header
What better place to indulge in love than a palace? After investing a lot of efforts into making your wedding a perfect one, it's the time to gift yourself a post marriage exuberance with the lovely moments spent in serenity and ambience of Rambagh Palace, Jaipur.
Ramabgh Palace is owned by Taj group of hotels which has been serving a royal treatment since years all across the country.
Located 5 miles outside the walls of the city of Jaipur, Rambagh Palace is the perfect honeymoon destination you always desired for. The palace is known for its rich heritage, culture and royalty. The other glam quotient that gets added up to this place is the one where Sridevi-Anil Kapoor starrer movie Lamhe got shot; celebrity couple Katy Perry and Russell Brand got engaged at this very location.
From fine dining to sightseeing- Rambagh Palace has a lot to offer you:
1. Fantabulous Dining:
When the sun sets down and the sky is lit with shimmering stars sprawled across, one would surely want to spend a delightful time having dinner with each other. The palace gives you a choice to dine privately anywhere you wish, with the majestic palace as a backdrop. The fairy tale settings, handcrafted menus and impeccable service create culinary memories to be cherished forever.
Peacock Thali with folk shows:
Surrounded with the zeal of authentic food and dance culture, the exuberance of the place will unfold and beautiful experience for you.
Private lunch at the Baradari:
With a backdrop of magnificent arches and beautiful carvings, a private lunch with your loved one is the time you will cherish the most.
Polo Bar:

Adorned with trophies and memorabilia of yore, the bar serves signature cocktails inspired by the royal sport. The shelves are lined with the finest rare whiskies, single malts, cognacs, wines and liqueurs, and a hand-picked selection of Cuban cigars.
Verandah Cafe:
Verandah Café is the best place to retire with a book and an afternoon champagne tea, pre-dinner cocktails or light meals for company. Bask in the attention of the palace staff and savour palatial privileges at this airy palace verandah.
Rajput Room:

Overlook the front lawns of Rambagh Palace that offer a wonderful breakfast, light meals, and select signature French press coffees and freshly infused teas.
Suvarna Mahal:
With its high ceilings, gilded mirrors and Florentine frescoes, Suvarna Mahal embodies the rich heritage of erstwhile rulers. The chefs have mastered royal cuisines from the princely states of Rajasthan, Awadh, Punjab and Hyderabad to give you the best of India in Jaipur
Steam:
Jaipur's best lounge bar offers Mediterranean cuisines and features a restored steam engine and a recreated Victorian station. Along with select fine liquors, the bar offers a delicious variety of pizzas.
2. Places in the proximity of the Palace:
Albert Hall Museum:
source:vardhmanvacations
At an approximate distance of 0.9 km, city's oldest museum is a fine example of Indo-Saracenic architecture and has a rich collection of artifacts like pottery, furniture and woodwork, metalware, ivory carvings, stone carvings, textiles and garments, carpets, clay models, arms & armor, lacquer work, miniature paintings, musical instruments, jewelry and sculptures.
Birla Mandir:
source:indialine
Located just 0.4 km from the Palace, Birla Mandir allows you to experience the devotional aura of Lord Vishnu and Goddess Laxmi. The temple is situated at the foot of Moti Dungri Fort and is built by the famous and affluent business family of Birlas and is a marvellous architecture.
Central Park:
source: blaberblogger
On a proximity of 0.7 km, Central Park is constructed by the Jaipur Development Authority and is the largest park in Jaipur. Engulfed with lush green beautiful garden, Rambagh Polo Ground and golf club nearby makes it a perfect enjoyable place in Jaipur.
B M Birla Auditorium
source: worldcongressofcardioecho2017
Located 1.1 km from Rambagh Palace, the elegant B M Birla Auditorium is located in the heart of the Pink City amidst beautiful surroundings & is well equipped to support conferences of tremendous volume.
Chandlai Lake:
source: monks-n-monkeys
A perfect site for a perfect evening, surrounded in the vicinity of 1.0 km; Chandani Lake is a placid place filled with cool zephyrs and freshness.
Amar Jawan Jyoti:
source: trawell
Located at 0.9 km from Rambagh Palace, the memorial is also known as flame of the immortal soldiers and the architecture resembles India Gate.
3. An ambience worth staying for:
The finest Rajput traditions and heritage pour out of every brick and cornice of the famed Rambagh Palace. Built in 1835, its elegant rooms, marbled corridors and majestic gardens echo with history.
If you arrive here, a spectacular arrival is what awaits for you. Decorated camels, horses and elephants ceremoniously welcome you while ladies dressed in Rajasthani attire perform the 'aarti' and 'tikka' ceremonies to the music of the shehnai.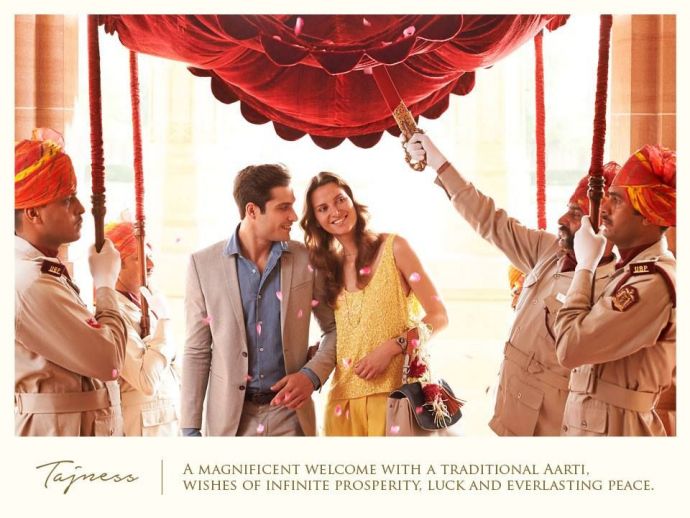 Amidst the ambience lies tranquillity where one can relish the beautiful view with their loved ones
Heavily adorned with a majestic look, an insightful and entertaining walk around the palace will keep you feel more alive. Our butlers keep you enthralled with rich and varied stories and anecdotes of yesteryears' maharajas.
4. Special Honeymoon Suite:
A special bond needs a special place to nurture. The honeymoon suite is the place that will unfold your love amidst the extravagance, style, and grandeur of the palatial abode of the Maharaja and Maharani. Bask in the summer sun in the beautiful Oriental and Mughal Gardens. It will fulfil every desire of yours, from a lavish breakfast in bed, to a romantic dinner of your favourite foods. Our butlers are at hand to ensure you have the holiday of your dreams, as you surrender to splendour at the Rambagh Palace.
Information source: tajhotels
Image source: tajhotels
---
Like our facebook page to stay updated. You can also download Reacho app on Android or iOS to get interesting stories at your fingertips.