Reacho_Header
We all know that the king of Ayodhya, Dasharath had four sons Ram, Lakshman, Bharat and Shatrughna from his three wives Kausalya, Sumitra and Kaikeyi. But very few of us know that Lord Ram also had an elder sister.
This story finds no mention in Valmiki's Ramayana, however, in the version of the Ramayana which was narrated in the Mahabharata, we learn of King Lompada (alternately spelled Romapada) who adopted the daughter of King Dasharath.
Who Was Shanta?
Source: speakingtree
According to the story in the Mahabharata, Shanta was the daughter of Dasharath and Kausalya, adopted by the king Lompada of Anga.
Source: nationalview
It is said that Shanta was the true princess, the epitome of poise, peace, and harmony. She had beauty and the quality of a warrior at the same time, but King Dashrath wanted a son to continue his reign.
Shanta's Marriage With Rishyasringa
Source: hindutva
We can also find some information about Shanta's marriage in the Oriya Ramayan. According to the Oriya Ramayan, after giving Shanta to King Lompada in adoption, she married Rishyashringa, a sage whose celibacy caused droughts in Lompada's kingdom.
Source: spiritual
It was said that only a woman with great power could marry Rishyasringa. Shanta married the sage and made him part of Dasharath's family. Rishyasringa then presided over the Putrakameshti Yagya (prayer to beget a son) performed by Dasharatha to fulfil his desire for a male heir.
Source: speakingtree
Shanta, meanwhile, gave up her princely life and went to live with Rishyasringa.
Source: onlinenewsind
Birth of Lord Rama, Laxman, Shatrughan and Bharat
After getting married to Shanta, Rishyasringa performed the Putrakameshti Yagya and as expected, all three queens of Dashratha gave birth to sons, Kausalya to Rama, Sumitra to Laxman and Shatrughan, and Kaikeyi to Bharat.
Source: speakingtree
It is said that it was Princess Shanta whose commendable sacrifice brought heir to King Dashrath's Kingdom. In Telugu folklore, she is also sung of as a furious woman who condemned Rama's abandonment of Sita following some gossip.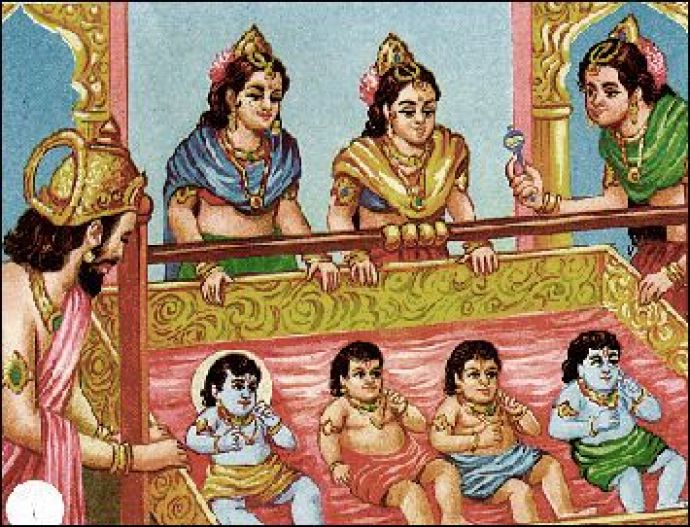 Source: speakingtree
The more we know!
Title Image: indilinks
---
Like our facebook page to stay updated. You can also download Reacho app on Android or iOS to get interesting stories at your fingertips.