Reacho_Header
Being Indian and Sanskaari, we are pros at bombarding our opinions and gyaan on others even if the other person does not seek it. Ever since the social platforms have given us a chance to showcase our point of view, we have somehow forgotten the humanity that lies deep within us.
Where are we heading exactly? On the one side, we stand against the molestation and sexual abuse of women, and on the other hand, we don't leave a single stone unturned to bash our celebrities with unnecessary comments on social media sites.
What are we, HYPOCRITES?
Though you might not be an ardent fan of Priyanka Chopra, or her work for that matter, but how far can you keep yourself rom the fact that she, at some point, has certainly uplifted the Hindi film industry, and is now on a pedestal (read Hollywood) where many actors would kill to reach.
But then we feel, poor Pee Cee seems to be used to it.
Source: india
Source: indiatoday
Flipping the pages of her trolling history, you might be amazed to see that from the armpits controversy to her sitting-before-the-PM controversy, PeeCee has always been thrashed with disgusting trolls.
This time, it's her hair that has come into the picture.
Apparently this photo was taken in 2015 for L'Officiel India's photoshoot. This is the first time where Priyanka is seen sporting a quirky attire with a red knit dress and a blonde wig.
And for this one, Priyanka would have never thought that her crossed legs posture would turn out to be such a scandal.
The meet of PM Modi and Priyanka was a sheer coincidence because she was there to promote her forthcoming movie and you can't expect one to carry a salwar suit while promoting a movie in Hollywood. You know what stuff she was carrying in her bag? She might have pulled out the best apparel from her backpack and donned it!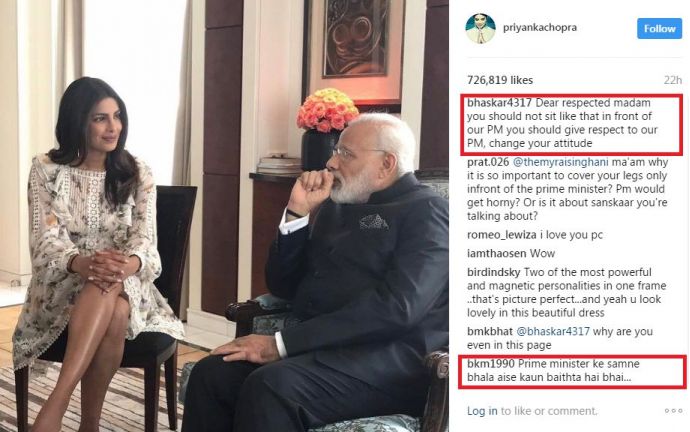 Source: bollywoodpapa
Honestly, we are not shocked to see such comments hurled from such trolls, because somewhere, sub-consciously, we have got used to it.
Worse as it gets, we seriously appreciate Piggy Chops for being cool and carrying that dashing attitude. Our desi girl has got some desi swag and has very brilliantly quelled all the trolls.
Information source: hindustantimes, india
Title image: hindustantimes, india
---
Like our facebook page to stay updated. You can also download Reacho app on Android or iOS to get interesting stories at your fingertips.