Reacho_Header
We've all heard of how global warming is a crisis situation where climate change takes place and the ill-effects follow. We've heard that snowcaps will melt and the water levels will rise. We've seen documentaries which bring to us situation at the North Pole while we sit back at home. And yet, we fail to grasp the graveness of this condition. In fact, most of us still think that global warming is a thing we're going to face after a decade or two.
But Tanmoy Bhaduri wasn't one of them.
An author at a leading youth magazine, Tanmoy decided to visit an island in the lush Sunderbans to understand the impact of climate change.
On reaching the Ghoramara island which is located 150km south of Kolkata in the Sunderban area of Bay of Bengal, he could sense the gloom already. The climate change had Ghoramara losing its terrain day by day because of the rising seas. According to the locals, nearly half of the landmass has been immersed under the water in the last 50 years.
Bhaduri wanted to document the climate change and its effect on the island and the human beings living on it. On a humid evening of February 2016, he was welcomed by a village with no electricity and barely-there mobile signal. He stayed the night at Nur Islam and decided to go for a walk to the dam next morning. The idea was to photo-journal the island and its people.
A conversation with Modium Bibi enlightened Bhaduri of the former's tragic tale of losing her home to the waters. She now stays at Khasimara Bazar which even though at the centre of the island, is safe as of now.
Bhaduri saw how common it was for the people to cross the Muriganga river, a stream of the Ganges to reach to the closest harbor, Kakdwip.
Kakdwip is where most of the resources such as medical facilities etc. are available. However, the time taken to travel to the harbor is two hours.
Tanmoy spoke to a number of people on the island to know more about the stories. During one such interaction, he understood the fate of 'Lohachara' island. The 'former' island near Ghoramara, which once stood tall is now completely under water.
It is now a casual thing for people to flee the villages of such dangered island to safe spaces. Most of the people have made the Sagar Island their home, using the temporary accommodations provided by the state government of West Bengal. As per the official records for elections, there are around 3,000 people staying on the island.
Tanmoy's experience has been captured in the photos. Here's a look at his journey -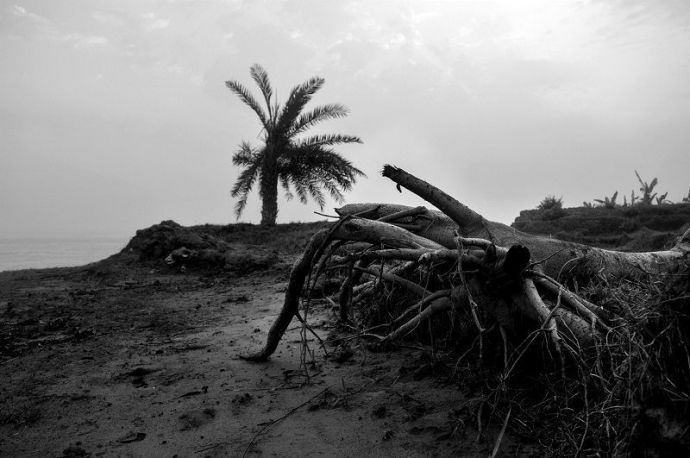 Images and information source: youthkiawaaz
---
Like our facebook page to stay updated. You can also download Reacho app on Android or iOS to get interesting stories at your fingertips.