Reacho_Header
What was once a mandatory became a hobby and is now a luxury. That is what 'Gardening' has now come down to. With the growing population and shrinking homes, gardening has taken a backseat in most of the households.
But trust the Japanese to challenge any problem around the world and give it a solution. So when it came to gardening, Japanese people decided to use a little imagination and let their creativity flourish on the truck backs.
Japan Federation of Landscape Contractors kick-started annual rituals of annual 'Kei Truck Garden' contest. Kei Trucks are small trucks with a flatbed that are usually used in construction and landscaping industries. During the festival, the landscapers get together and decorate the back of their trucks with creepers, shrubs and even trees. The trucks look a lovely combination of natural and man-made, thanks to the pretty lights and water features.
So, the next time you think gardening takes up too much space, take some inspiration from our Japanese folks and DIY that little pop-up garden you always wanted to.
Check out the landscapers below:
1) Fresh Garden with a Coffe Table:
2) Bamboo Water Well:
3) Refreshing Garden with Cascade Waterfall:
4) Green Cafe:
5) Red Leaf Brocade with Paper Door:
6) One with a Bonsai Tree:
7) Autumn Fall:
8) Landscape with Coffee Table:
9) Romantic Mood Garden:
10) Secret Green Dao's Place:
11) Little Farmhouse Garden:
12) Kei Toa Garden:
13) Flowing Water Is Reflected On The Stone Wall Inside:
14) Chess Pattern Pebble Garden:
15) Rock Cascade Waterfall:
16) Minimal Garden: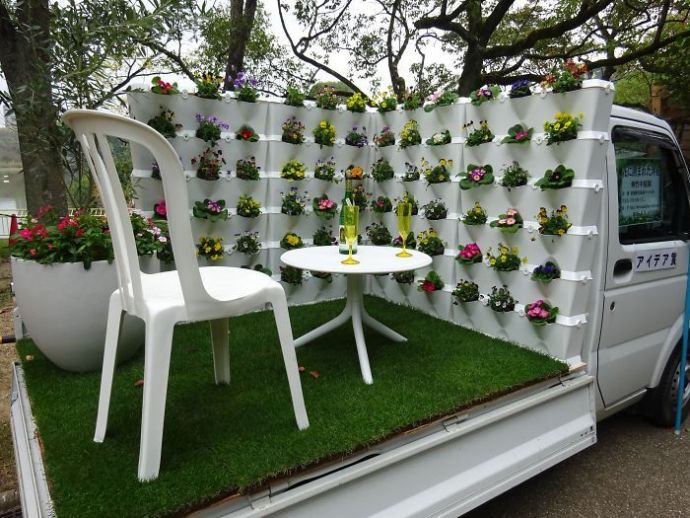 17) Truck Garden with Trees:
18) Enjoy the Fall:
Images, title image, and information: boredpanda
---
Like our facebook page to stay updated. You can also download Reacho app on Android or iOS to get interesting stories at your fingertips.